Montauk Weekend Getaway | The Perfect 3 Day Itinerary for a Weekend in Montauk, NY
Montauk has a really special place in my heart and it should have a place in yours too! A small fishing village, a surfing town, a family beach vacation, a weekend getaway – Montauk means a lot of different things to a lot of different people. To me, Montauk is home. (I grew up here!)
There is a good reason thousands of people decide to spend a weekend in Montauk each summer – it is a truly special and beautiful place. Keep reading for my 3 Day Itinerary Guide for a perfect Montauk Weekend Getaway including what to do in Montauk, where to eat and drink, and where to stay.
For a full run down and Complete Montauk Travel Guide you might be interested to read my Ultimate Montauk Travel Guide.
Download my FREE Montauk Pocket Travel Guide. This pocket guide includes easy access to my most recommended (& favorite!) places to eat for breakfast, lunch or dinner, all of the best beaches, best hikes and top things to do in Montauk right on your phone.
Sign up to get your guide below!
Where to Stay for Your Montauk Weekend Getaway
You need to find a place to stay before we get into what to do in Montauk for the weekend!
If you're just staying for the weekend in Montauk I would recommend staying in one of Montauk's hotels (they're fun!) but airbnb is always a good option as well. Hotels are listed in order of price from low to high below.
Must Read: Best Places to Stay in Montauk for Every Budget & Best Montauk Hotels on the Beach
Montauk Hotels & Resorts in Montauk:
Did you know: when you book a stay from any of the links on TRVL Collective, I earn a small commission which helps keep this blog running and at no additional cost to you!
Thank you for supporting!
Your Montauk Weekend Getaway Itinerary – How to Spend the Perfect Weekend in Montauk, NY
Montauk has so many great restaurants, points of interest and things to do that I haven't included on this list. It would be so hard to do and see everything in one weekend!
This Montauk weekend getaway guide is meant to help steer you in the right direction for you to plan your best weekend in Montauk. Keep reading below for what to do in Montauk and my suggested 3 day Montauk weekend getaway itinerary!
Only have enough time to take a day trip to Montauk? Read what I would suggest if you only have one day to spend in Montauk! Coming Soon!
Day 1 | Weekend in Montauk, NY:
If you've arrived in Montauk, NY the night before I suggest grabbing a coffee at Blue Stone Lane or Left Hand Coffee and taking a walk in Shadmoor State Park.

My favorite Montauk hike to leads you on top of the buffs with Ditch Plains Beach as your backdrop as you walk East. The whole walk is about 2+ miles there and back.
Must Read: 8 Best Hikes in Montauk, NY (and walks!)
After a walk through Shadmoor head to Bird on the Roof – my favorite breakfast restaurant in Montauk! It is seriously so good. Order the soft scramble or pancakes.

If you're up for exploring a bit more, head to the Montauk Lighthouse at Montauk Point State Park & Camp Hero State Park for a bit of history and the most amazing ocean views!

Commissioned by George Washington in 1792 and completed in 1796 the Montauk Lighthouse still serves as a navigation tool today.

Camp Hero served as a military base for many years until 1982. Today you can walk around the park and see old US military bunkers, a radar tower, and some dwellings that still exist in the park.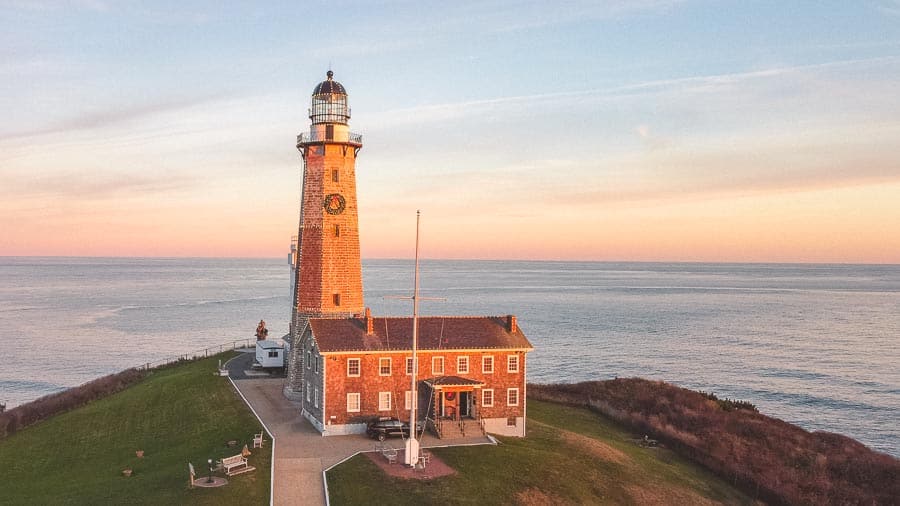 You have traveled out to Montauk, NY the farthest point east in New York State – I hope you want to enjoy the beach!

The best beaches in Montauk are in town with free parking for anyone. (You can find free street parking around South Edison Street). There is also a large parking lot with paid parking next to the IGA grocery store in town.
Must Read: The 10 Best Beaches in Montauk You Have to See!
If you need a casual late lunch (or a few afternoon margaritas) TT's or Hideaway is your answer for tacos! If pizza is what you're after, grab a slice from Blade + Salt or Sausages Pizza before heading off to watch an epic sunset in Montauk.  (Click here to read about the best pizza in Montauk!)
You can not miss a Montauk sunset from the Montauket Hotel! The Montauket has some of the best views over Fort Pond Bay and Gardiners Island.

After you've watched the sun set into the Block Island Sound and had yourself a few drinks – head into Montauk town to enjoy a great dinner.

I love 668 The Gig Shack for smaller bites and cocktails (although they have amazing entrees too) & The Harvest on Fort Pond for a group dinner served family style – try to sit outside in the garden if you can!
Must Read: 8 Best Places to Catch an Epic Montauk Sunset!
Day 2 | Weekend in Montauk, NY:
Craving a refreshing bite for breakfast? Get to Happy Bowls for a morning açaí bowl where you can choose your favorite toppings. My favorite bowl to order is the PB&J one.

Tip: Happy Bowls is cash only! They also have an amazing poke bowl for lunch.
Have an Uber or local cab drop you off at Ditch Plains Beach for the day. You must have a parking sticker to park in the parking lots and you will get hit with a nice parking ticket if you choose to park without one. (don't be that person)

Get lunch at the Ditch Witch! It's my all time favorite food truck. One of my favorites is the sesame noodles and you can add poke on top if your little heart desires.

Tip: they also have breakfast if you want to grab a cup of coffee, bagel and go for a beach walk.
Must Read: Top Beaches in Montauk, NY for the Perfect Summer Beach Day
Psst! Did you know I own and design a swimwear line? Shop Summer Label swimwear here!
After baking all day under the hot summer sun, you'll want a tasty drink cool you down. Some after beach favorites are: BBC's at Best Pizza and Dive Bar, Rum cocktails at Lynn's Hula Hut and anything from The Pool Club at the Montauk Yacht Club. RIP Liars!!!
For a restaurant with great sunset views I recommend these four places: The Crow's Nest, Inlet Seafood, Duryea's or Navy Beach.
Of course nothing beats an at home BBQ or beach picnic and bon fire on the beach to watch the sunset! Find out my Top Places to Catch the Sunset in Montauk here!
Day 3 | Weekend in Montauk, NY:
Are you hungover? Goldberg's Bagels will help you out. Order a flagel – a flat bagel that gets nice and crispy when toasted. Or you can get pastries and iced coffee from the Montauk Bake Shoppe.

If you want a break from the beach – go on a 1/2 Day fishing charter out of Montauk Harbor! You can get a great take out lunch from Joni's and stock up on beverages from Montauk Beer & Soda.

In the afternoon be sure to hit up Montauk Brewing Company for a cold craft beer! They always have new beers on tap to try and you're always guaranteed to have a great time here! (plus I work here – come say hi 🙂 )
Must Read: Top Things to do in Montauk in the Summer
If shopping is more your thing.. walk around town and discover so many great locally owned boutiques and shops. Some of my favorites: Quincy, Beach Taun, 8th Drifter, Mako's Vintage, Below the Blue, Montauk T-shirts and Candied Anchor.

If you need to get back to New York City (or where ever home is!) The Clam Bar is a favorite seafood restaurant when you are driving out of town towards East Hampton. They have a killer Lobster Roll!

BUT… if you're just having so much fun and decided to extend your weekend in Montauk and stay Sunday night, enjoy live music at the Surf Lodge or Salivar's on the harbor. Both are a great time!

Tip: Salivar's is family friendly

End your evening with my all time favorite restaurant, The Dock. It's a Montauk staple!

Located at Town Dock, The Dock restaurant is a great little tavern-esq place. Simple food, but amazing food. I seriously love the whole menu but some of my favorites are: Jalapeño Poppers, Mussels, Clams Casino, Tuna Melt, Chili, Vegetarian Sandwich and the specials are always good.
---
TRAVEL TIPS:
Coming in Montauk's off season? Read my Off Season Guide to Montauk for the best things to do in the Winter, Spring and Fall.
Click here for the most photograph worthy and instagrammable spots in Montauk.
Montauk is about a 3 hour drive my NYC however, in the Summer months you can hit tremendous traffic.
If you don't drive out, the best way to get to Montauk is by the LIRR (train) or the Hampton Jitney bus.
The closest airport is ISP but most flights will come into JFK or LGA.
If you are coming from New England, there is a ferry from New London, CT on the Viking Fleet.
Montauk is an expensive place to visit. Expect cocktails and wine to be $15+ and entrees at restaurants to be over $30. Taxi cabs and Ubers are also expensive but worth the alternative 🙂
You can't park at Ditch Plains unless you have a parking permit.
Always be respectful of the environment. Montauk is a beautiful place, let's keep it that way!
Download my FREE Montauk Pocket Travel Guide. This pocket guide includes easy access to my most recommended (& favorite!) places to eat for breakfast, lunch or dinner, all of the best beaches, best hikes and top things to do in Montauk right on your phone.
Sign up to get your guide below!
Leave a Comment OR Question Below!
I'd love to respond to your questions or know if you used this blog post to help plan your trip!
Add to Pinterest!