Montauk is one of my favorite places on the planet! I've called Montauk, NY home since I was 4 years old – so this is a true locals guide to Montauk. I'm so excited to share my recommendations with you about my home town in this Montauk travel guide!
There are about 4,000 year round residents and an influx of about 30,000 people in the summer months. There is no doubt that Montauk, NY is super popular and a special place for many.
There are tons of restaurants, bars, things to do, and beaches to go to so I'm here to help break it all down for you! This Montauk Travel Guide is a complete guide to Montauk with a ton of useful information. If you download my free pocket guide (below) I'll also highlight where my absolute favorite places to eat in Montauk are.
If you're planning a weekend trip to Montauk, I've written a 3 day Montauk Weekend Getaway Itinerary post here that details what I would recommend if you only had 3 days in Montauk. Or if you're planning a quick Day Trip to Montauk read this guide here. (coming soon!)
Download my FREE Montauk Pocket Travel Guide. This pocket guide includes easy access to my most recommended (& favorite!) places to eat for breakfast, lunch or dinner, all of the best beaches, best hikes and top things to do in Montauk right on your phone.
Sign up to get your guide below!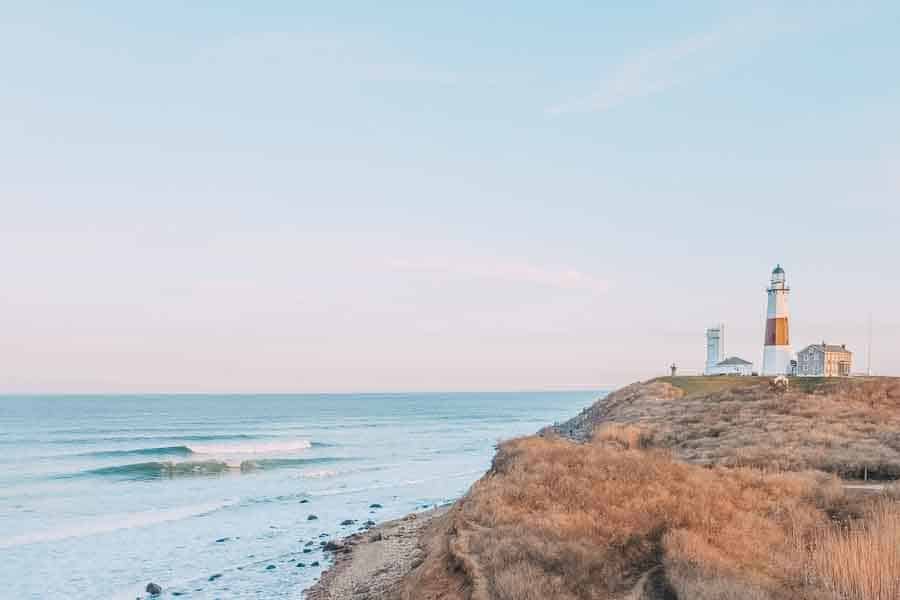 Montauk Travel Guide FAQ
Where is Montauk, NY Located?
Montauk is the very last town on the eastern tip of Long Island located in New York State.
Montauk is almost an island! Connected only by a small stretch of land, called the Napeague Stretch, Montauk is surrounded by water on all sides. The Atlantic Ocean on the south side of town and the Block Island Sound on the North side of town.
Is Montauk, NY Worth Visiting?
100% yes! There is a good reason Montauk is full of tourists and visitors every summer. Montauk is a quaint little fishing and surfing town with beautiful beaches and hikes and loads of great restaurants, shops and things to do.
Montauk is a special and unique place and once you visit you will agree!
The Best Time to Visit Montauk, NY?
The best weather is June through September and with that it's the most crowded during those times as well. The weather is mostly sunny (although we do get rain in Montauk too!) and between 70-85 degrees Fahrenheit.
The Fall and the Spring are also really lovely in Montauk and hotels can be more affordable than in the Summer. Expect cooler temperatures and more unpredictable weather patterns. Temperatures in the Spring and the Fall are between 40-70 degrees Fahrenheit.
During the Winter months most things in Montauk are closed but it can be really cozy and nice if you're up for it! There are still a handful of restaurants and hotels open. Expect the weather to be cold and windy! Temperatures hang around 20-40 degrees Fahrenheit. (and yes it does snow in Montauk!)
Must Read: Off Season Guide to Montauk: Best Things to do in Montauk in the Winter, Spring and Fall
The Ultimate (local's) Guide to Montauk, NY
How to get to Montauk from NYC
Want to know how to get to Montauk from NYC? There are five different and diverse options for getting to Montauk, NY. Be mindful that if you are traveling to Montauk between the end of June and the beginning of September travel times can double!
By Car. From New York City without traffic this should take you about 2.5 to 3 hours. However, in the summer months you may need to double your driving time. The last 50 minutes (without traffic) are on small local roads through The Hamptons.
By Train. The Long Island Rail Road (LIRR) leaves from Penn Station in NYC or Jamaica Station if you've just arrived at JFK International airport. This is such an easy option as Montauk is always the very last stop! The train ride is about 3 hours long with many stops along the way!
By Bus. There are two coach buses that run from the Hamptons to New York City numerous times a day. Your options are between The Hampton Jitney and the Hampton Luxury Liner. You can get on at multiple stops in NYC or at their Queens pick up if you are arriving into NY by plane.
By Air. If you're feeling fancy you can take helicopters or private planes out to Montauk which will take you all of 30 minutes max. Just be mindful that only propeller planes can land in Montauk's airport so if you are opting for a jet or helicopter you will need to land at East Hamptons airport which is a 30 minute drive to Montauk.
By Boat. If you are coming from New England you can take the Viking Fleet Ferry from New London, CT right into Montauk Harbor which is an hour and a half ride. Coming on the off season? You might opt to take the Cross Sound Ferry also from New London, CT to Orient Point (on the north fork of Long Island) instead of driving around New York City.
Is There Surfing in Montauk, NY?
Short Answer: yes!
Longer Answer: there are small waves all summer long suitable for longboarding. The most popular spot to surf is Ditch Plains beach. The lineup has great beginner waves (1-3ft) that break on a small rock reef.
Larger swells start to pick up at the end of August and coincide with hurricane season on the East Coast. The best/largest swells are in the Fall and Winter (hello 5mil and hood!). Typical wave size is 3-5ft but occasionally some swells can reach well overhead.
Montauk works best with a South East swell and a North North West wind. Great spots for finding good surf are Ditch Plains, Turtle Cove and any beach break along the southern shore.
Must Read: Your Guide to Surfing Montauk (coming soon!)
The Best Places to Stay in Montauk, NY
Montauk, NY is a resort town. There are so many hotel, motel and vacation rentals to choose from! However, they may not be budget friendly if you are planning on visiting between Memorial Day (end of May) and Labor Day (beginning of September).
You can expect to pay $300-$1,000+ a night during peak summer season.
There are full service resorts like Gurney's Montauk which offer multiple dining locations, beach access, pools and more. And in the last 10 to 15 years Montauk has seen a number of stylish boutique hotels come to town like Marram Montauk and Hero Beach Club.
For more budget and family friendly options there are hotels like the Breakers or Daunt's Albatross too!
Did you know: when you book a stay from any of the links on TRVL Collective, I earn a small commission which helps keep this blog running and at no additional cost to you!
Thank you for supporting!
My Top Picks for Hotels in Montauk:
Want to find the perfect hotel for your Montauk vacation? Read these guides!
Favorite Montauk Hotels on the Beach
Best Places to Stay in Montauk for Every Budget
Top Things to Do in Montauk, NY
Go for a walk or hike on one of Montauk's many nature trails. My top three choices include Montauk Point State Park where the Montauk Lighthouse is located (and the most eastern point in New York State!), Shadmoor State Park – a beautiful walk along the bluffs and Hither Hills State Park.
Must Read: 8 Best hikes in Montauk
Have a beach day on one of Montauk's beautiful beaches. Montauk, NY is surrounded by water.. so I am guessing you didn't come all the way here to not go to the beach! Don't forget to book a surf lesson with East End Surf Club!
Must Read: The 8 Best Beaches in Montauk (for every kind of beach day)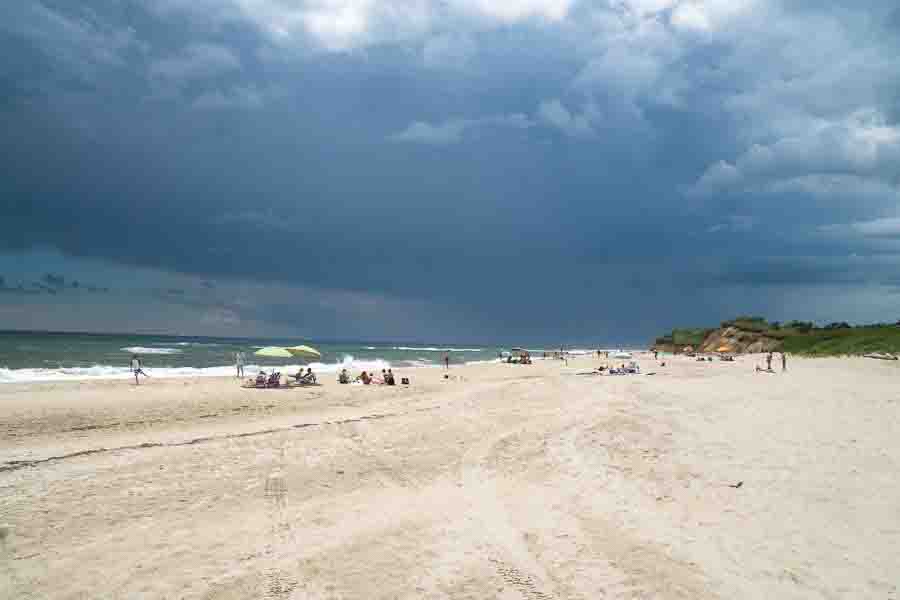 Must Read: 12 Best Things to do in Montauk in the Summer
Download my FREE Montauk Pocket Travel Guide. This pocket guide includes easy access to my most recommended (& favorite!) places to eat for breakfast, lunch or dinner, all of the best beaches, best hikes and top things to do in Montauk right on your phone.
Sign up to get your guide below!
Take a boat cruise around Montauk Harbor. What better way to see Montauk than from the water! (I highly suggest a sunset cruise!) You can cruise around Montauk Harbor and surrounding areas with Destination Haus, MonTiki, Tomoka or the Montauk Cycle Boat.
Go shopping in Montauk town. There are so many stores and cute boutiques for you to explore! From women's boutiques, kids stores, natural beauty boutiques, homewares and classic souvenir tshirt shops.
Buy local produce at the Farmer's Market. If you're in Montauk on Thursday's June-September there is a great farmers market on the green in the middle of town that sells local produce and other locally made products.
Dine Out. You have got to experience all of the yummy food and drinks in Montauk! More on that below 🙂
Must Read: The 12 Best Photo Spots in Montauk
Best Restaurants in Montauk, NY
There are so many places to eat in Montauk, NY that this would turn into a really long list fast (and it already is). In this guide to Montauk I've broken down where to eat by Breakfast, Lunch, Pizza, Dinner and Ice Cream – because who doesn't love a good ice cream cone.
I've also highlighted my top three picks (OK more than three because its too hard to choose!) in each category.
Note: most places are closed during the winter. I've left a small star * after the restaurants that are open year round or for the majority of the year.
If you're planning to visit Montauk in the off season read my Off Season Guide to Montauk here!
Where to Get Breakfast in Montauk: (& Coffee!)
Goldbergs Famous Bagels* – bagels, flagels and deli sandwiches
Bird on the Roof – favorite breakfast restaurant in Montauk
Happy Bowls – healthy açai bowls
Download my FREE Montauk Pocket Travel Guide. This pocket guide includes easy access to my most recommended (& favorite!) places to eat for breakfast, lunch or dinner, all of the best beaches, best hikes and top things to do in Montauk right on your phone.
Sign up to get your guide below!
Where to Get Lunch in Montauk:
Naturally Good * – healthy smoothies, wraps and organic market
Joni's – cute cafe for breakfast or lunch
The Ditch Witch – food truck at Ditch Plains beach
Where to Get Pizza in Montauk:
Where to Get Dinner in Montauk:
Where to Get Ice Cream in Montauk:
John's Drive-In* – homemade ice cream (it is so good!)
Fudge & Stuff – candy and ice cream shop
Nightlife in Montauk, NY
If you're coming to Montauk, NY to party – there are plenty of options. You definitely have a mix of higher end bars to more local staples. Most places on Friday and Saturday, during the summer, will have a massive line to get in so just keep this in mind!
Tip: bars in New York State are open until 4am! Most bars start to get crowded by 11pm and are definitely packed by 12am.
Below are my top picks for nightlife in Montauk, NY but also includes daytime and sunset Montauk "nightlife".
Must Read: Top Places to Catch the Sunset in Montauk, NY
Best Bars in Montauk, NY:
Montauket – one of my favorite places in Montauk, the Montauket has one of the best sunsets. This bar is on top a cliff over looking Fort Pond Bay and always has good vibes.
Montauk Brewing Company – local brewery owned and operated by three local guys – good beers and fun atmosphere! They close at 8p sharp!
Ruschmeyers – large venue with an outside lawn, inside bar, and dance room. Get here early if you don't want to wait on a line for an hour or more. (get here before 10p on Friday/Saturday or know someone who can get you in)
Shagwong – local tavern with DJ on weekends which has turned it more into a club.
The Memory Motel – Bud lights, Music, dancing… I've never been here before midnight but it's a damn good time.
The Point – just across the street from The Memory, the Point is also fun bar to dance and hang out at.
TT's – young and fun small bar. Head here to start your night with a few margs (maybe a tequila shot) and then grab a cab into town.
Lyn's Hula Hut – fun outdoor tiki bar in the parking lot of the Marine Basin. A middle age crowd here but can be enjoyed by all ages.
Must Read: Best Places to Watch the Sunset in Montauk (including sunset bars and restaurants!)
More…
Beer & Liquor Stores in Montauk, NY
Grocery Store & Markets in Montauk, NY
TRAVEL TIPS:
This Montauk, NY travel guide doesn't include EVERYTHING but everything written I would personally recommend and I thought would be useful for my readers!
The local grocery store is the IGA and the Balsam Farms farm stand is right next door.
High season is Memorial Day Weekend to Labor Day Weekend
Shoulder seasons are April/May and September/October. Read the Off Season Guide here.
Click here for the most photo worthy and Instagrammable spots in Montauk.
You must have your beach bon fire contained in a metal container.
Ocean temps are pretty chilly for majority of the year. July-September is when it is warmest and above 70 degrees!
Dogs are allowed on beaches until 9am and after 6pm
You need a town permit to park at town beaches. (Gin, Ditch, Navy) Your parking ticket will be $150+ for parking without one.
Where to park for free in Montauk: street parking is free! Check the roads around South Edison Street for free street parking near the beach.
Arrive in the morning or late afternoon to get a parking spot at the beach.
7-Eleven is open 24-7 but liquor stores close at 7pm!!
The wait for dinner and to get into bars at night is usually an hour or more. If you don't want to wait to eat dinner go on the earlier side: 5-6 o'clock.
What towns are near Montauk, NY? Amagansett, East Hampton, Sag Harbor and Bridgehampton.
Montauk, NY is a beautiful place, let's keep it that way! 🙂 Make sure to take your trash with you when you leave the beach or parks and be respectful of where you are!
*Free & Downloadable Complete Montauk Travel Guide.
Sign up Here!
Leave a Comment OR Question Below!
I'd love to respond to your questions or know if you used this Complete Local's Guide to Montauk to help plan your trip!
Add to Pinterest!