Some of the best beaches in the world are in Montauk, New York. I might be biased, since I've grown up here, but I've also traveled quite a bit to know that the beaches in Montauk are some of the best.
Keep reading to find out the 8 beaches in Montauk I recommend for every type of ideal beach day. Anyone can find their perfect beach in Montauk with this guide!
Heading to Montauk for a weekend getaway? Read my 3-Day Weekend Itinerary here! Full of the best things to do if you are visiting for one weekend.
---
8 Best Beaches in Montauk
Ditch Plains Beach
One of the best beaches in Montauk and famous for surfing, Ditch Plains, is my personal favorite. The cliffs in the background to the right are dramatic and beautiful with the summer haze.
It's also a great family beach! However, the beach isn't huge and it gets pretty crowded in the summer. If you walk farther down near the cliffs you will find more sitting room.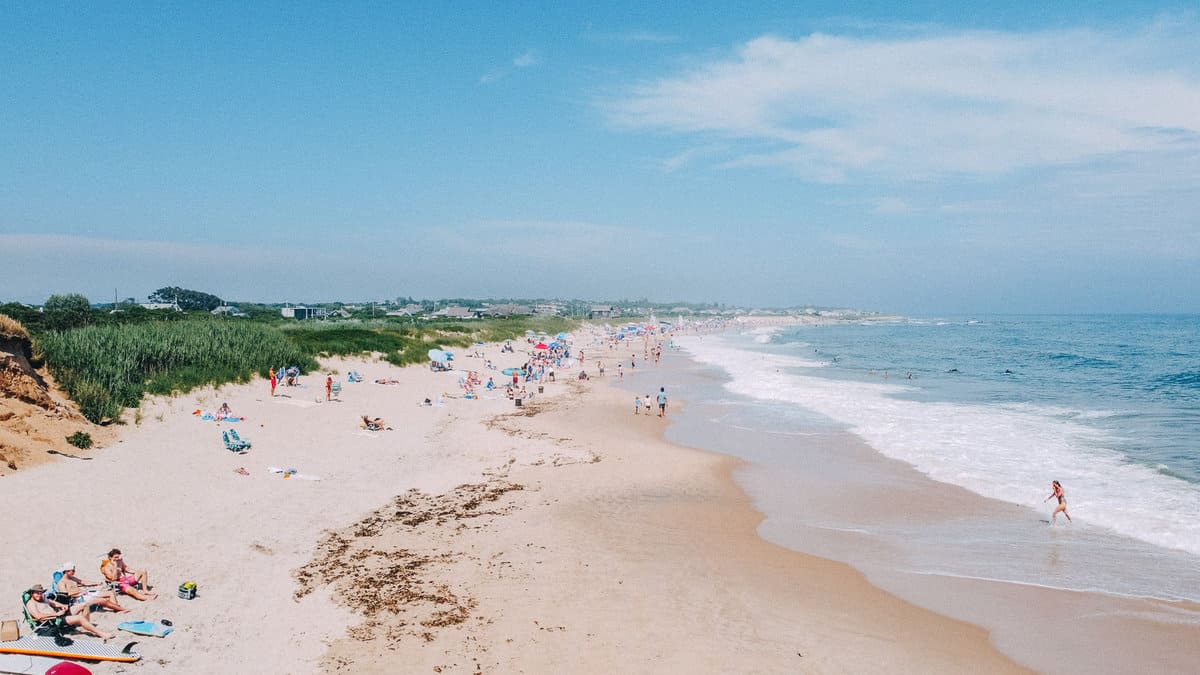 There are a few different places where you can surf at Ditch: the line up, trailer park, or down the other end of the beach at Poles. There's also a great walk up on top of these cliffs – read about it here!
Don't forget to sign up for a surf lesson! There are a few different companies that offer group and private lessons.
There are three parking lots, all of which you need a town permit or parking pass from your hotel. Otherwise you will need to take a cab or a bike ride here.
At two of the three parking lots there are food trucks, the Ditch Witch being one of my favorite places to eat!! Down at the first parking lot (when driving in on Ditch Plains Road) there are bathrooms, showers and two food trucks. The farthest lot, called Dirt Lot, isn't paved and is usually full of surfers.
*Town of East Hampton parking permit required at this beach.
Gin Beach
On the Long Island Sound, Gin Beach is a great place to take little ones for a family day at the beach. There are bathrooms available in the parking lot and a food truck during the busy summer months.
It is popular to walk the jetty along the inlet and watch the boats come in and out of the harbor or cast a line out and do a little fishing yourself.
*Town of East Hampton parking permit required at this beach.
Gosman's
On the other side of the inlet from Gin Beach, Gosman's beach is similar in likeness. However, bathrooms are a little farther away! There is a great food truck at this beach as well called Sammy's.
The beach is definitely smaller on this side of the inlet and the beach can be very small at high tide. There are many restaurants and shops you can walk to from the beach! Maybe an afternoon ice cream cone at Gosman's Ice cream stand 🙂
Navy Road
Another favorite of mine and definitely one of the best beaches in Montauk! Navy Road is on Fort Pond Bay, a huge U shaped bay that was occupied by the US Navy in WWII.
The beach is very family friendly but be aware that Navy Road is rocky! You may want to bring a blanket down to lay out on for a little extra layer of comfort. The water is super calm and you can bring floats down, paddle boards or a boat and spend the day on the water.
Just down the road, at the hangar dock, there is a dog park as well as great walking trails on the north side of Montauk!
*Town of East Hampton parking permit required at this beach.
Terrace
Located at the new Marram Hotel, Terrace gets its name from the old Atlantic Terrace Hotel. Growing up in Montauk, your family either went to Terrace or Ditch Plains. These are the two most popular beaches in Montauk with the locals.
In recent years, the Army Corps of Engineers have added large scale sand bags to help preserve the dunes from erosion but in turn changed the ecosystem of the beach. The waves aren't as good here as they used to be and some summers there is little to no beach when in the past it used to be a huge vast and beautiful beach.
To get here just walk left of Nick's beach. Parking in town on S. Emerson Avenue and the surrounding streets is free!
Nick's
Nick's named after Nick's Bar right on the beach is a great place to spend the day at the beach. There are lifeguard stands… and a bar when you need a cold refreshment. Also, town is just a quick walk away so you are close to everything!
This beach is a mix of families and younger 20 somethings ready to day party. Park right on the road if you can find a place to park!
Kirk Park Beach
Located across the street from the 7-Eleven in Montauk, Kirk Park beach has a large parking lot free for guests. The beach here (in my opinion) is the nicest beach in Montauk. It's a large beach with really white, fluffy sand. There is plenty of room and a bit quieter than the other end of the beach. (Nick's)
Gurney's
If you are staying at Gurney's Montauk, coming to the beach here is a no brainer. If you're not, you may reserve a lounge chair or day bed for the day. These will cost you money and you may have to spend a certain amount to be able to sit down. It's very boujee but also lives up to the hype.
---
TRAVEL TIPS:
A parking ticket without a town permit is expensive! (over $100)
Lifeguard stands are located at Nick's, Kirk Park, Gin Beach, Gurney's and Ditch Plains.
Be respectful of the beautiful beaches and take your trash home with you!!
Drinking on town beaches is permitted (yay)
May-September dogs aren't allowed on beaches from 9a-6p
You are able to drive onto the beach with a special town permit but only after 6p or before 10a (May-September)
You are allowed to have a bon fire on the beach! But follow these rules.
Leave a Comment OR Question Below!
I'd love to respond to your questions or know if you used this blog post to help plan your trip!
Add to Pinterest!