I've been coming to Rincón, Puerto Rico since the age of 7 when my parents brought my sister and I on our very first island vacation. I've been to Rincón countless times, both in my childhood and adult life so this island, and particularly Rincón, is super special to me! (and to so many others)
There are so many amazing things to do in Rincón, Puerto Rico and i'm going to share with you what to do in Rincón, Puerto Rico with a packed 3-day itinerary including where to eat, drink, stay and the best things to do!
Click here to read the top 14 Fun Things to do in Rincón Puerto Rico.
Although part of the US, Puerto Rico has maintained its culture and ways of life and thats truly what should be loved about it! A small surfing town on the less popular west coast of Puerto Rico, Rincón is the perfect Caribbean weekend (or week!) getaway. Rincón definitely has a vibe! Come to soak in the tropical sunshine, surf in the warm ocean, drink a rum punch, put your feet up and relax!
If you're on Puerto Rico's east coast be sure to Bar Hop around Old San Juan or take a ferry to Isla Culebra or Vieques!
You can also sign up for a free Quick Guide to Rincón to download to your computer or phone for easy access to all of my recommendations and links for future use!
FAQ:
Is Rincón, Puerto Rico worth visiting?
Absolutely! Rincon is located on Puerto Rico's west coast (opposite from San Juan) and it a tropical paradise. Rincón is a popular tourist town but you won't find large hotels and shopping malls here. There are tons of things to do in Rincón. (read about them here)
How to get to Rincón, Puerto Rico
The best way to get to Rincón from the US mainland is to fly into Aguadilla airport (BQN) The drive is then 30-45 minutes south.
Is Rincón, Puerto Rico walkable?
There are a few areas in Rincón that are walkable however, I would highly recommend renting a car. The town is a bit spread out and you wouldn't want to be confined to one small area during your vacation.
Can you Swim at the beaches in Rincón?
Yes! There are beaches with calm Caribbean water and a soft sandy bottom. (read about them here)
Does Rincón have nightlife?
Also, yes. There are a handful of great happy hour bars as well as nightlife bars in town. Keep reading below to find out more!
What to do in Rincón, Puerto Rico
Day 1 in Rincón, Puerto Rico:
But first, coffee. Get your coffee fix at either Cafe to Go (my personal favorite) or Jakes Java depending on which side of town you are staying on.
Head to one of Rincon's many bakeries for a ham, egg & cheese on Puerto Rican water bread or head to the Wandering Bagel for a NY style bagel.
After a solid beach day shower up and head to Villa Cofresi for their famous Piratas (coconut-rum drinks!) and watch the sunset. One of my favorite things to do in Rincon!
Find out my top places to watch the Sunset in Rincón, Puerto Rico here!
After coconut drinks, head to town and browse local art at Rincon's Art Walk in the town square. (Thursday nights only)
Once you build up an appetite for dinner you can choose from one of the restaurants in town. I love La Sirena for sushi, Gylro for gyros or head to La Cambija (just outside of town) for authentic Puerto Rican food and one of my all-time favorites. (definitely get the loaded fries to share… or not to share)
For a fun night out in town I recommend La Estacion or Abajo Bar.
---
Day 2 in Rincón, Puerto Rico:
Start your morning in paradise with a yoga class right on the beach at Bare Foot Yoga or if cycling is more your speed head to Rincon Ride.
Make a reservation at The English Rose for breakfast or brunch. The view and breakfast are so good! This is a must while you are in Rincon.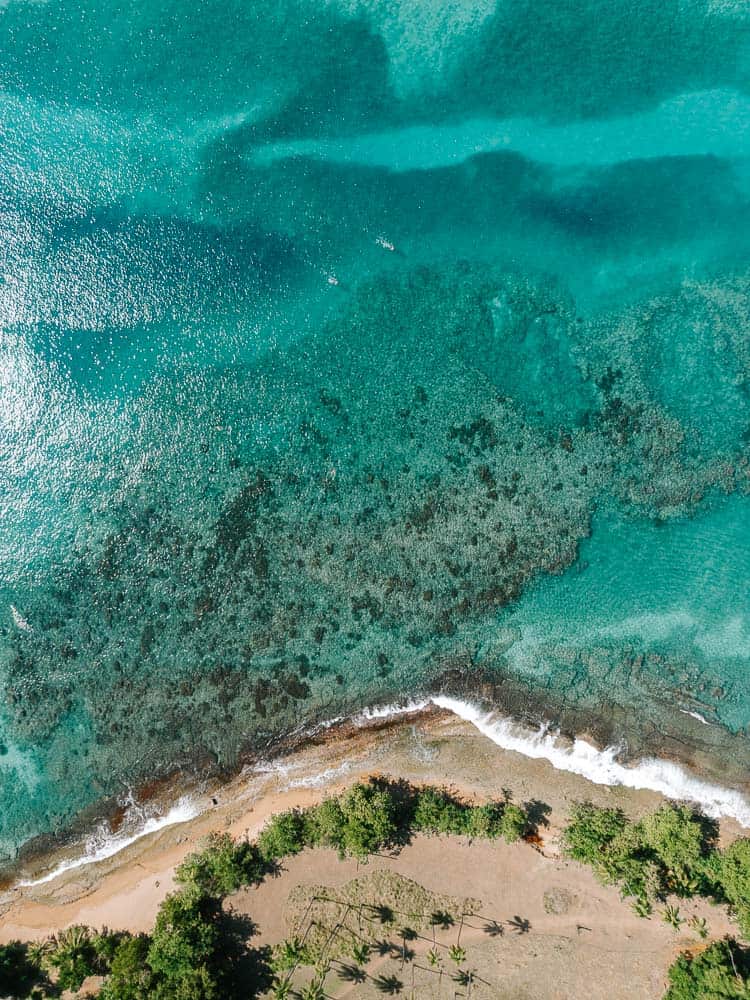 If there are no waves, or you are not into surfing, spend a day at Steps beach. Bring your snorkel, mask and fins. Step's has some of the best snorkeling in Rincón!

This is another one of my favorite things to do in Rincon but be careful where you get in and out of the water to go swimming or snorkeling. Watch where others are going in first before you jump in!
Click here to read about the Top Beaches in Rincón, Puerto Rico!
If you're full from brunch at the English Rose but need an afternoon snack go into town to Napolitana and grab an authentic Puerto Rican Empanadilla and sit in the town square and people watch.
Don't miss an epic sunset in Rincón. Most sunset bars will have happy hour specials. Some of my favorite bars for happy hour are: Calypso and Ola Sunset Cafe.
After happy hour head to Casa Isleña (ps- they also have a great breakfast!) for a fresh and awesome dinner. This is on the Puntas side of town if it is a Saturday night and you want to go out after dinner walk over to Casa Verde which is in walking distance from Casa Isleña.
For another great family option head to Shipwreck for a nice and casual seafood dinner in the marina.
---
Day 3 in Rincón, Puerto Rico:
In the morning grab a refreshing smoothie, juice or açai bowl from The Juice Box. My favorite is the Marina Bowl.
Go to Sandy Beach for the day to go swimming and play in the surf if it is not too windy (this side of Rincon can get windier than the southern side of town) If too windy, head to the beach at the Marina where its very calm an you can swim. (click here to read about the best beaches in Rincón)
Tamboo is a great restaurant right on the beach at Sandy Beach. Come here for a great lunch with unbeatable views. The Piña Colada here is my favorite!
If you want something more casual Jack's Shack is a great healthy food truck just down the street! The fish sandwich is unreal!!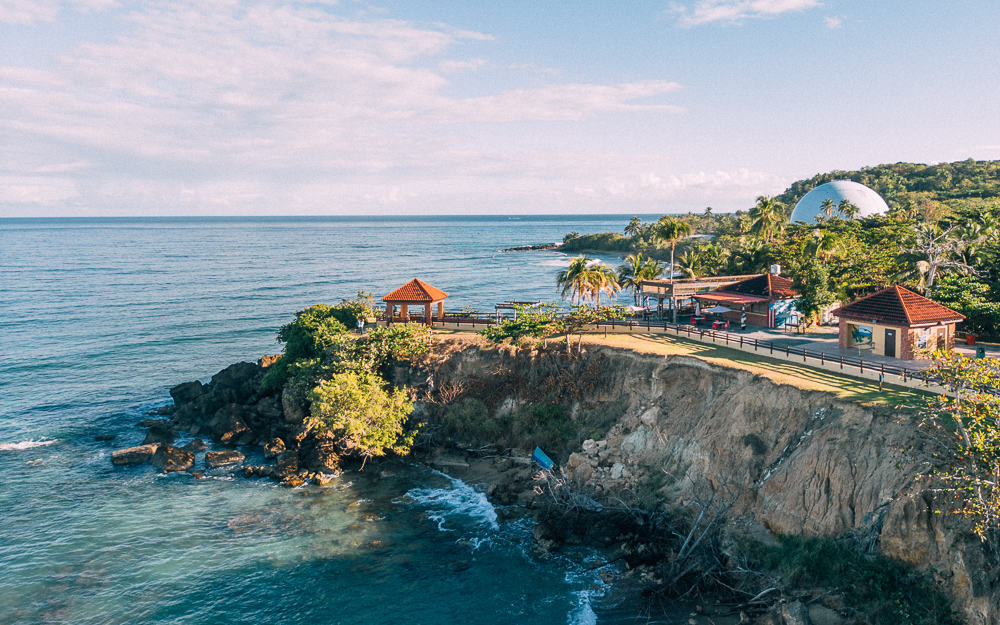 For sunset happy hour head to Ola Sunset Cafe overlooking Domes Beach and watch the surfers down below.
If it's your last night, and you want something a little special go to La Copa Llena or La Cambija at Tres Palmas for dinner. Both restaurants have lovely sunset views and lovely ambiance. Listen to the waves crash on to the shore and enjoy an amazing meal.
In Rincón for longer than a short trip? Check out the Best Day Trips to take from Rincón!
Where to Stay in Rincón, Puerto Rico
Did you know: when you book a stay from any of the links on TRVL Collective, I earn a small commission which helps keep this blog running and at no additional cost to you!
Thank you for supporting!
There are a few different areas of town you can stay in. The neighborhood Puntas is over the hill on the Sandy Beach side of town. Ensenada and Tres Palmas is on the other side between the Marina beach and Maria's. Farther south on the other side of town is Corsica neighborhood.
There are a few great small hotels in Rincon which I will list below – but I also recommend checking on Airbnb for a house rental!
Leave a Comment OR Question Below!
I'd love to respond to your questions or know if you used this blog post to help plan your trip!