The Ultimate List of the 21 Best Things to do in Montauk, NY in the Summer
For me, Montauk is home. I have grown up here my whole life and continue to work and live in Montauk now!
This list is comprised of what I think are the 22 Best Things to do in Montauk in the Summer (and many are year round activities!) There is a variety of things to do in Montauk and I think this is a great list for first timers visiting Montauk or even seasoned vacationers looking for something new and fun to do in Montauk this summer.
For more detailed information check out my Ultimate Montauk Travel Guide! This post includes getting to Montauk and when to visit, where to eat breakfast lunch or dinner, best places to stay, nightlife in the summer and more!
Download my FREE Montauk Pocket Travel Guide. This pocket guide includes easy access to my most recommended (& favorite!) places to eat for breakfast, lunch or dinner, all of the best beaches, best hikes and top things to do in Montauk right on your phone.
Sign up to get your guide below!
22 Best Things to do in Montauk
1. Visit the Historic Montauk Point Lighthouse.
If this is your first time visiting Montauk – seeing the Montauk Lighthouse is a must!
The Montauk Point Lighthouse, part of Montauk Point State Park, was authorized by President George Washington in 1792. Montauk Point Lighthouse was the first lighthouse in New York State and the fourth oldest lighthouse in the United States that is still in use.
You can climb the lighthouse and walk around the museum learning about the history of the Montauk Lighthouse. Days of operation and hours change seasonally. Check hours and ticket prices here.
And don't forget to walk out on the cliffs at Camp Hero State Park for a magnificent view of the Lighthouse!
Must Read: 12 Most Instagrammable and Photographic Places in Montauk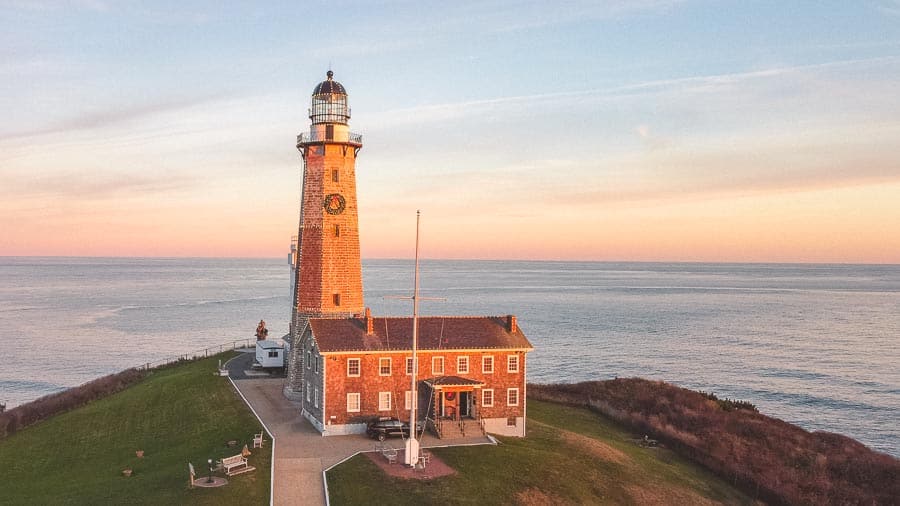 2. Go to the Beach!
This is Montauk's best and main attraction! (In my opinion at least!) Miles of beautiful coast line of both the Atlantic Ocean and the Block Island Sound.
No visit to Montauk, New York is complete without visiting one of the many beautiful beaches! Below are some of my favorite beaches in Montauk.
Ditch Plains
Navy Road
Umbrella Beach (Kirk Park Beach)
Must Read: The 10 Best Beaches in Montauk You Have to See!
3. Take a Surf Lesson in Montauk.
Since you're already at the beach why not try surfing? There are plenty of businesses that offer surf lessons or surf camps for kids in Montauk. Below are my recommend surf lessons:
4. Walk on top of the Bluffs at Shadmoor State Park.
There are many trails to be hiked in Montauk but Shadmoor State Park is definitely my favorite one!
It is easily accessed and not too long but the best part? The views are breathtaking! After a short walk through the woods (past a few old cementer bunkers left over the US Army's base in WWII) the narrow trail winds its way along the ocean bluffs and down to the famous Ditch Plains Beach.
Must Read: The 8 Best Hikes in Montauk, NY (and walks!)
5. Taste Craft Beer at Montauk Brewing Company
Tasting craft beer at Montauk Brewing Company is the perfect activity when you are tired of the beach and sun. Come hang out on Montauk Brewing Company's patio and taste their incredible craft beer and shop their cool t-shirts, sweatshirts and hats! You can even try small batch craft beer here that they don't distribute anywhere else!
6. Watch the Sunset at the Montauket
The Montauket is a true Montauk staple and one of my favorite things to do in Montauk. All ages and walks of life welcome to this dive bar on top of the bluffs over looking Montauk's Fort Pond Bay.
The Montauket is arguably the best place to watch the sunset in all of Montauk. (Unless of course you own the house next door)
Must Read: Ultimate Montauk Sunset Guide!
7. See Montauk from the Water on a Boat Cruise
It's so fun to go out on a boat from Montauk Harbor and see Montauk from the water! There are multiple companies that offer boat cruises and at different times throughout the day.
A sunset boat cruise is probably my favorite time to go though! See below for my favorite companies.
8. Go on a 1/2 Day Fishing Charter
This is always a fun way to spend half your day on the water in the middle of the Summer in Montauk!
All you have to to do is show up – the boat provides all fishing gear for you. (bring drinks and snacks though!) There are lots of boats to choose from but some of my favorites are: The Lazy Bones, Viking and Oh Brother.
9. Go Shopping in Montauk Village
Something I personally don't do enough of! Take the time and stroll down Main Street and pop into all of the local stores.
One of the great things about Montauk is most stores are mom & pop and are not super commercialized. There are a wide variety of stores to shop like women's boutiques, skincare, kids shops, toy stores, vintage apparel, homewares, bookstores and surf shops.
Tip: Pick up an iced coffee from Bluestone Lane and start exploring!
Some of my favorite stores in Montauk town include:
Must Read: The Perfect Weekend Getaway to Montauk | 3 Day Itinerary
10. Play Golf at Montauk Downs State Park Golf Curse
Hit the links one morning or evening while you're visiting Montauk. Montauk Downs is a well known hard course! (Montauk is super windy in general!). Make sure to make a reservation for your tee time in the summer months!
11. Play Mini Golf at Puff & Putt
Ok, so maybe you don't play golf like me… but mini golf?! That is fun for everyone. Puff & Putt is located just across from the Montauk IGA and right on Fort Pond.
Besides a great (and super fun) mini golf course they also have sun fish sail boats, paddle boats and an arcade room.
Tip: walk to John's Drive In for ice cream afterwards 🙂
12. Get Ice Cream from John's Drive-In
A favorite since I was a little girl and I'm still a frequent customer :). Who doesn't love good homemade ice cream? Stop by John's Drive-In for an afternoon ice cream cone or come for your after dinner sweet tooth!
13. Make a Bon Fire on the Beach
Perhaps overlooked by many, but I think making a bon fire on the beach is a must-do activity and had to be included on my list of best things to do in Montauk. There is just something so special about sitting around a fire with friends and family right on the beach next to the ocean with all the stars above your head!
Bring blankets and sweatshirts and set up to watch the sky turn an array of vibrant colors. Pack a cooler or even a grill! (we also like to bring take out sometimes and drive onto the beach)
Tip: don't forget to read up on (and follow) local bon fire rules here.
14. Listen to Live Music at The Surf Lodge
I promise you will feel on vacation if you're at The Surf Lodge – even I do and I live here! Situated on Fort Pond, The Surf Lodge has a huge outside area where they host amazing musical talent each summer like Bob Moses, St Lucia, Citizen Cope, Willie Nelson and Lauryn Hill.
It can be quite a process to get in on weekends but there is still live music during the week and local favorite Nancy Atlas plays every Wednesday evening.
15. Buy Local Produce at the Montauk Farmer's Market
The Montauk Farmer's Market runs from May through September every year from 9am to 2pm. There are over twenty vendors that set up in the center of town. The Farmer's Market is located on the Montauk Green where the gazebo is.
Buy produce from local farms, pies, fresh pasta and mozzarella, freshly made bread and pickles! There is a lot of variety and its fun to walk around and buy local goods.
Click here for a list of vendors.
16. Learn About the Montauket Native American Tribe at the Montauk Indian Museum
Did you know Montauk had a local Native American tribe? The Montaukets lived in Montauk for centuries before European settlers showed up on the East End of Long Island.
The Montauk Indian Museum, located on the grounds of Second House, offers exploratory displays of Native American artifacts and teaches about Native American life in Montauk.
Worth a visit if you love history!
17. Treat Yourself to a Spa Treatment at Gurney's Seawater Spa
The newly renovated Seawater Spa at Gurney's Montauk is an amazing experience. Treat your self to a massage or facial and then enjoy the spa facilities.
Inside the co-ed spa are 4 thermal plunge pools: 50, 55, 95 and 104 degrees that look out over the large indoor seawater pool. In addition to the thermal plunge pools and main pool there is a quiet area, sauna and steam room for spa guests to enjoy.
Visiting the Seawater Spa is well worth the splurge! For more on my experience at the Seawater Spa click here.
Click here for the spa menu.
Must Read: Gurney's Montauk Review: Why you Need to Stay at Gurney's Montauk Resort
18. Discover the Healing Powers of the Montauk Salt Cave
Try salt therapy at the Montauk Salt Cave. Salt therapy can help with ailments like asthma, anxiety, inflammation and skin issues just to name a few.
The Montauk Salt Cave offers sessions up to 45 minutes long with zero gravity chairs to relax in while you take in the healing properties of their salt caves. They also offer reiki and sound meditation sessions.
For more about salt therapy and the Montauk Salt Cave click here.
19. Play a Game of Doubles or 105 at Hither Hills Racquet Club
If you're a tennis lover like me, you have to play a game of 105 at Hither Hills Racquet Club! Located on Napeague Stretch, the club consists of 5 separate courts and a small (but cute) clubhouse.
If you want to play a game of tennis, 105 or join a clinic make sure you sign up in advance – spots fill up fast!
For Hither Hills Racquet Club schedule click here.
20. Learn to Sail with Sail Montauk
Seeing Montauk from a sailboat is a completely different experience! Sail Montauk offers a lot of different options for sailing.
Opt for a chartered sunset sail (that would be my choice!), a daytime chartered sail and swim, a sailing lesson or sailing school for kids.
For more on Sail Montauk click here.
21. Go Horseback Riding at Deep Hollow Ranch
Deep Hollow Ranch is the oldest working cattle ranch in the country!! They offer trail and beach rides through the beautiful Montauk landscape. Take in the views of the coastline while you get a taste of Montauk history.
Deep Hollow Ranch also has pony rides available for younger children.
BONUS: Eat at One of the Many Delicious Montauk Restaurants for Dinner
In the summer there are so many restaurants to choose from in Montauk! Too many? Maybe.
It can definitely be overwhelming if you don't know where to go or which restaurants in Montauk are the best. Below are my favorite restaurants in Montauk that I would recommend over and over and over again:
For a bigger list of where to eat in Montauk you can read my Ultimate Guide to Montauk or sign up below for my FREE pocket guide to easily access my list of favorite places to eat, beaches, hikes and things to do right from your phone.
Montauk Pocket Travel Guide.
Top 3 Montauk Hotels for your Summer Vacation
Gurney's Montauk Resort & Seawater Spa is the number one place to stay in Montauk if you are looking for luxury and a full service resort. Located directly on a stretch of pristine Montauk beach you are sure to have a relaxing and memorable trip to Montauk staying here.
Read my FULL Review of Gurney's HERE.
Marram Montauk is best described as barefoot luxury… and did I mention this Montauk Hotel is right on the beach? Just on the outskirts of town, Marram has an outdoor pool, cafe on site and walking distance to shops and restaurants on Main Street.
Must Read: Top Hotels on the Beach in Montauk
A great hotel just on your approach into Montauk town for families and friends. Hero is just on the other side of the dune from the ocean and also has a swimming pool and large lawn that features different fitness classes each day.
Leave a Comment OR Question Below!
I'd love to respond to your questions or know if you used this blog post to help plan your trip!
Add to Pinterest!