8 Best Hikes in Montauk, NY (and walks!)
If you've ever looked at a map of Montauk, NY you'll notice there is so much land preserve! This fact makes Montauk full of amazing hikes and walks.
All Montauk hiking trails are very easy and for all abilities. The hikes in Montauk all vary in length and in scenery. You'll notice most people walking leisurely but sometimes you'll come across a seasoned mountain biker in the trails.
Below I've listed the 8 best hikes in Montauk for you to enjoy the next time you're in town!
If you're planning a trip to Montauk, read my Complete Guide to Montauk NY for the best things to do, where to eat and drink, what beaches to go to, and where to stay. For the best of the best read my 3-day Weekend Itinerary. And if you're visiting Montauk in the off season read my Off Season Guide to Montauk.
8 Best Hikes in Montauk, NY
1. Shadmoor State Park
I'll start with Shadmoor State Park because this is one of my very favorite hikes in Montauk to do. If you only have time for one of the many Montauk hikes this should be the one you choose!
Shadmoor's trail is high up on the hoodoos and cliffs overlooking the Atlantic Ocean. The trail has such beautiful views in either direction. My favorite time to do this walk is early in the morning before it gets busy. (Sunrise if you can get up for it!)
To get to Shadmoor State Park head east past Montauk's downtown. The parking area will be on your right side about a half a mile after town. There is a large sign marking the park to make it easy!
Tip: take the Roosevelt Run path to the right which will get you to the ocean (and the best part of the trail) the quickest.
The walk is about a mile long (two miles there and back) but you can make it longer if you wish to hop onto the beach and continue your walk east towards Ditch Plains Beach. In the Summer months you can head to one of the food trucks in either parking lot and grab breakfast and coffee too!
In addition to the gorgeous ocean views there are also two military bunkers left over from WWII to take a peek at in the trails before you make it to the bluffs. (When I was younger these used to be open and as kids we'd climb up in them!)
Location here.
Want to know more about the beaches of Montauk? Read my Montauk beach guide here!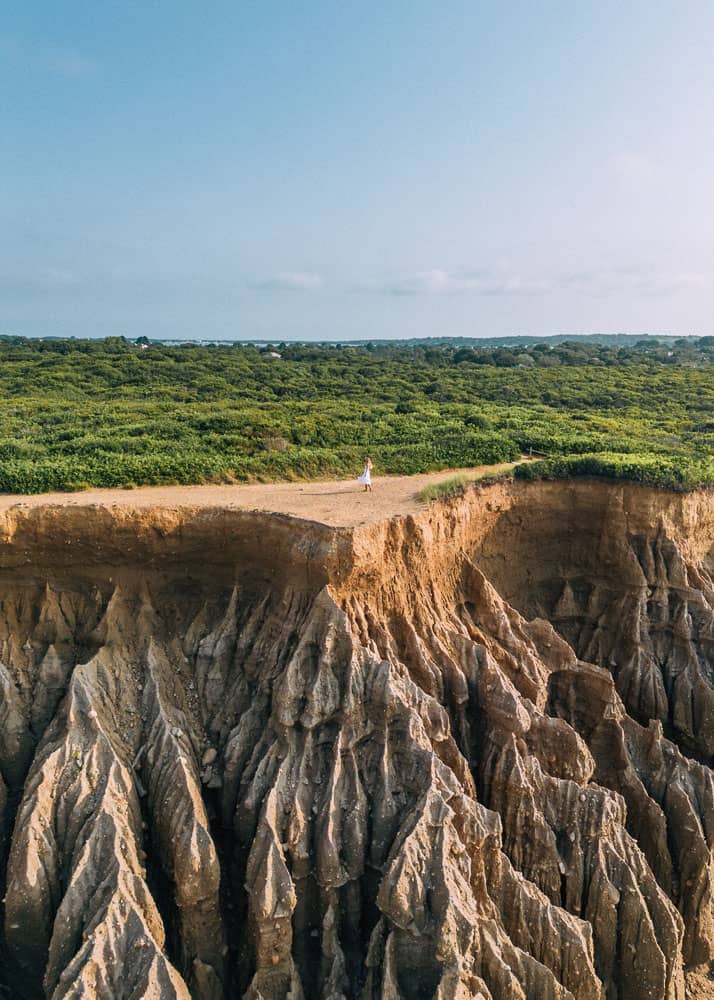 2. Montauk Point State Park / Camp Hero
You can't come to Montauk and NOT see the Montauk lighthouse! Plus there is so much interesting history to learn at Montauk Point State Park not to mention the incredible views!
This link has good information for visiting Montauk Point State Park. And here is a trail map of Montauk Point State Park.
This is another one of my personal favorite Montauk hikes. To get to the Montauk lighthouse just keep driving east on Route 27 and you'll get to The End. Camp Hero State Park is just to the right when entering into the Montauk Point Lighthouse loop. You'll see a large sign at the entrance.
Tip: you'll have to pay to park your car at the Montauk Point Lighthouse in the summer months and on weekends in the Spring and Fall.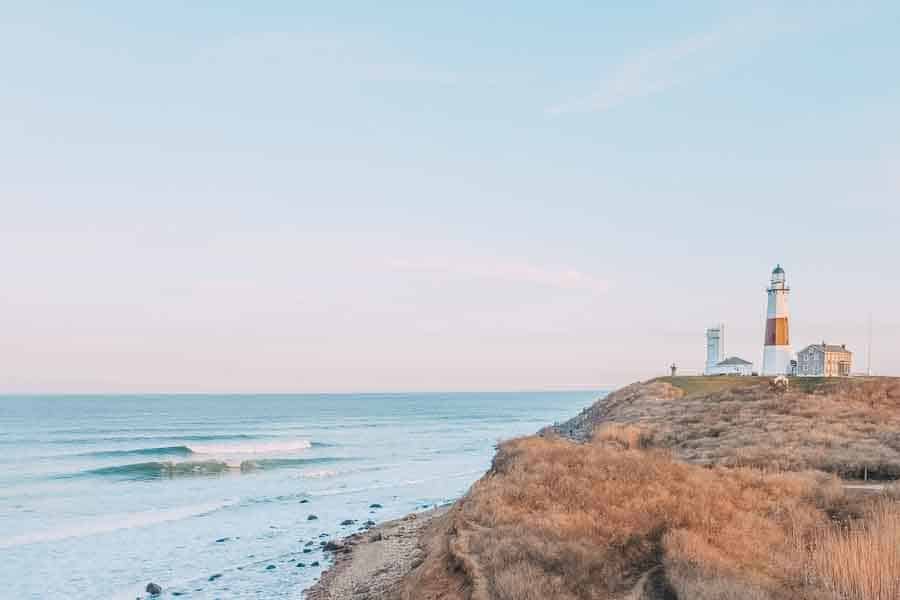 Camp Hero was a US military base manned and operated from 1942 to 1981. The state park opened in 2002 to the public . However, be aware that there are still areas off limits to the public like the iconic radar tower which was built in 1958 during the Cold War to detect Soviet missile bombers.
Inside the parks many trails you can see old bunkers as well as historic buildings that were used in the camp. This is one of the most interesting hikes in Montauk, NY you can go on! There are many plaques with interesting information and history for you to read up on.
Definitely stop at Turtle Cove Lookout and walk through the trail to the left of the parking lot towards the lighthouse. If it's a clear day you can spot Block Island and if there are waves don't forget to look down and watch the surfers below!
Location here.
Must Read: 12 most photographed places in Montauk
(hint: the lighthouse is included but there's 11 more spots!)
3. Seal Haul Out Trail
The Seal Haul Out trail is part of the Montauk Point State Park, but worth noting this Montauk hiking trail separately! The Seal Haul Out Trail is a 1.5 mile walk through a deeply wooded area that pops you out on the shore of the Block Island Sound. You can spot seals sunbathing on large boulders or on the beach.
Tip: I've had the best luck seeing seals in the Spring
4. Hither Hills State Park
Hither Hills State Park is a 1,755-acre park in Montauk, NY with an ocean side camp site, fishing, hunting, the Walking Dunes (more on that below) and numerous trails to hike or mountain bike in.
This park probably has the most extensive hiking trails in Montauk. Here is a trail map to help you plan!
The best place to enter the park for hiking would be at the Hither Hills Overlook in Montauk on route 27 on your way into Montauk town. The view here is also stunning and especially at sunset.
One of my favorite short Montauk hiking trails is to Fresh Pond in Hither Hills State Park. The hike is 2.5 miles round trip from the overlook and is very easy.
Another favorite is to the Native American ruins. They are noted on the Hither Hills map but you have to take a few turns onto different paths (some not well marked) to find them! You'll find a stone foundation as well as large holes that were used for storage.
Reading about Montauk Native Stephen Talkhouse is extremely interesting and the views of the coast from over here are breathtaking! This hike is about 4 to 4.5 miles long.
Location here.
Tip: be mindful of bow hunting season and rifle hunting season when walking back here.
5. The Walking Dunes
Part of Hither Hills State Park, the Walking Dunes are one of the most unique hikes in montauk and unlike any of the others in this list.
Located on Napeague Harbor, the Walking Dunes are continually moving (at a very slow pace!) to the south east and swallow the vegetation as they move. You can see the tops of large trees just sticking out the top of the sand dunes!
To get to the Walking Dunes from Montauk town head west on Route 27 and make a right onto Napeague Harbor Rd just after Morty's Oyster Stand. Keep driving down this road until you find the parking area and the trail head at the end.
Location here.
6. Eddie Eker Park
Eddie Eker Park is located on the west end of Fort Pond Bay and at the very end of Navy Road in Montauk, NY. The Park features a hangar dock (previously used by the US Navy and now a great spot for fishing!) a dog park, and a trail entrance to the Hither Woods Preserve.
The Hither Woods Preserve is adjacent to Hither Hills State Park (mentioned above). The hiking trails between the two parks are seamlessly integrated.
Location here.
Tip: you can bring your dogs here to enjoy the large open space at the dog park.
7. Big Reed Pond Trail
This Montauk hike is part of the Montauk County Park and next to the Montauk Point State Park. Big Reed Pond Trail is comprised of three different loops varying from one to three miles long. Big Reed and Little Reed ponds are both fresh water ponds in Montauk.
In addition to the fresh water ponds and trail system, Big Reed Pond also features bridle paths, picnic areas, fishing and kayaking. Also to note, the archeological remains of the Montaukett Indian Village reside here! You can see evidence of their stone foundations.
To get here, I think the best place is on East Lake Drive just after Big Reed Path (a residential road) and before the Montauk Airport. You will see a sign for the trail and there is a small parking area if you pull onto the dirt road.
Location here.
8. Amsterdam Beach Trail
This Montauk trail is located on your way towards the lighthouse and opposite the Montauk County Park. Amsterdam Beach Trail is a true gem and a lesser known Montauk hike!
There is a small parking area right off the main road and the trail is about one mile long in each direction. At the end of the trail you'll come to the bluffs overlooking the Atlantic Ocean in a small cove with (usually) no one on the beach!
Location here.
9. Old Montauk Highway
So maybe not classified as a hike, but the paved walking path along the Old Montauk Highway is so beautiful and worth noting! There are multiple points along the path that you can hop on and off the beach.
Must Read: The Best Beaches in Montauk, NY
Download my FREE Montauk Pocket Travel Guide. This pocket guide includes easy access to my most recommended (& favorite!) places to eat for breakfast, lunch or dinner, all of the best beaches, best hikes and top things to do in Montauk right on your phone.
Sign up to get your guide below!
TRAVEL TIPS:
Check local hunting seasons and permitted areas when choosing hikes in Montauk.
Unfortunately, ticks are a big problem on hiking trails in the summer months! Check for trails with a large pathway or wear pants and sleeves!
Always be respectful of the environment 🙂
Leave a Comment OR Question Below!
I'd love to respond to your questions or know if you used this blog post to help plan your trip!
Add to Pinterest!