Are you going to Rincon to relax on the beach with a book? Maybe you're wanting to come to surf or enjoy your share of medallas on the beach? You're in luck! Rincon has some of the most beautiful and diverse beaches in the Caribbean.
The beaches in Rincon are lined with lush palm trees (which offer much needed shade!) and beautiful blue ocean waters. Each beach in Rincon is unique and offers something different. Keep reading to find out which of the 7 best beaches in Rincon, Puerto Rico will fit your beach style!
Heading to Rincón, Puerto Rico? Read my full weekend Rincón Itinerary to help plan your time in my favorite Caribbean surf town or check out the Best Day Trips from Rincón to discover more beautiful beaches!
Swimming Beaches in Rincón: Sandy Beach, the Marina Beach, Lala's Beach
Surfing Beaches in Rincón: Sandy Beach, Pools Beach, Domes Beach, Maria's Beach
Snorkeling Beaches in Rincón: Steps Beach
The 7 Best Beaches in Rincón, Puerto Rico
The Marina
I personally frequent this beach a lot since it's a quick walk from Brent's family's house but it's also one of the best beaches in Rincon! There is usually little wind and Caribbean calm waters.
The Marina is a great beach for swimming in Rincón and a great beach for little kids! The beach has a good amount of shade up top to spend the whole day here but come on the earlier side to claim your spot!
There are also a few restaurants close by to grab lunch, water or a cocktail. El Ankla is great for Puerto Rican food and drinks while the The Juice Box is perfect for fresh coconut water, smoothies and açai bowls!
Click here for location.
Sandy Beach
Ah Sandy Beach! Maybe my favorite beach in all of Puerto Rico. The palms are plenty and right on the beach. Be sure to take a sunrise walk on this beach – it is beautiful! Keep an eye out for pretty beach glass!
Sandy Beach is usually very windy and the ocean can be rough but when the wind is coming from the south – be sure to come here for an epic beach day! Some of my favorite beach days are spent here when the water is turquoise blue and calm. You can get refreshments and lunch at Tamboo or walk up the street to Kahuna Burger.
Click here for location.
Pools Beach
Just on the other side of the rocky point from Sandy Beach, Pools is a lovely beach to sun bathe on and dip into the "pools" to cool off. The reef is really shallow here so swimming is not recommended. When the wind is south and there is swell in the water there are great waves here.
Click here for location.
Domes Beach
Come sit at Domes Beach and watch the surfers! One of the most popular surfing beaches in Rincon, Domes Beach has a wave 90% of the time in the winter months.
You can find a spot to swim down the end of the beach closer to the lighthouse but be extra careful of rip currents. Walk the path up to Ola Sunset Cafe to grab a bite to eat, a drink and to watch the sunset!
Read about my favorite places to catch the sunset in Rincon, Puerto Rico here!
Click here for location.
Maria's Beach
Another popular surfing beach! If you want to learn to surf, Maria's is a great spot to learn. The waves are usually bit smaller than Domes and can be a great beginner wave on smaller days. Take a lesson with RD2Happiness – they set up on the beach everyday.
The beach is fairly small here and if there is any kind of wave in the ocean it is not ideal to swim. If you get hungry you can grab food and drinks up at Calypso restaurant!
Read about the 14 Fun Things to do in Rincón, Puerto Rico while you're on vacation here.
Click here for location.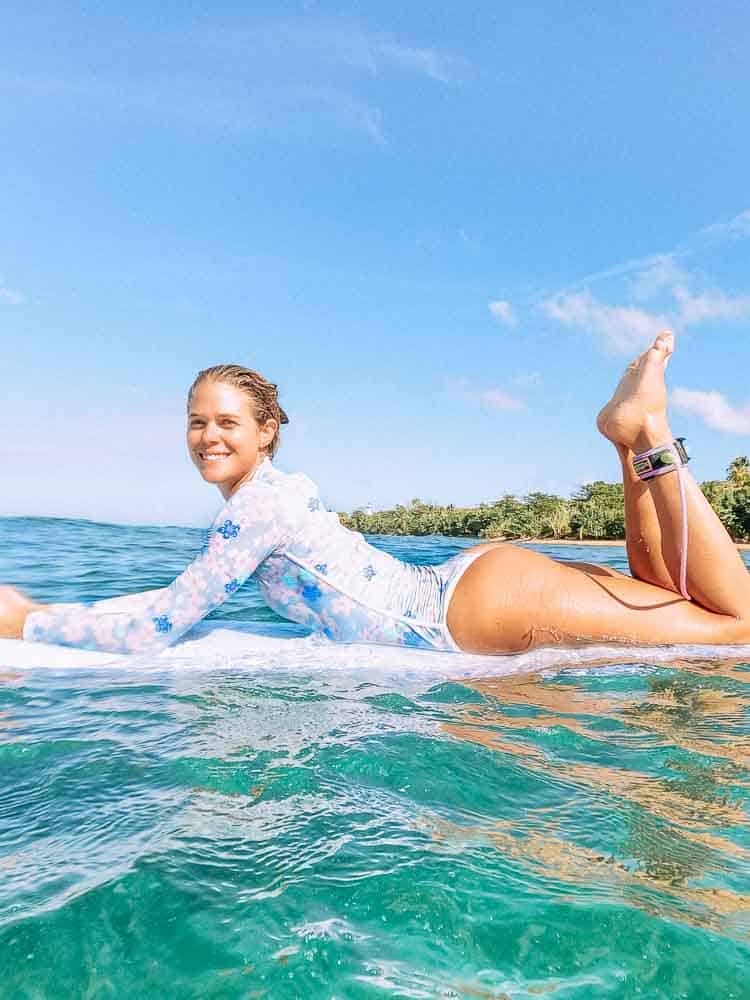 Sign up for my FREE Quick Guide to Rincón for easy access to all of my most recommended restaurants, bars, beaches and things to do right to your phone or computer!
Steps Beach
One of the best beaches in Rincon and definitely one of my favorites! Step's coral reef is located within the Tres Palmas Marine Reserve which makes it an amazing beach to snorkel, see turtles, brilliant coral, and colorful fish.
Be careful where you get in and out of the water. I recommend watching others entering and leaving the water first. The coral can be extremely slippery and there are urchins in some spots. On really flat days you can swim and float for hours here – it is paradise!
If you walk to the right or left of the steps a little ways there are great little tide pools for kids to play in. I spent many hours here when I was a kid!
Steps Beach is also one of my favorite places to take a beach walk and watch the sunset!
Click here for location.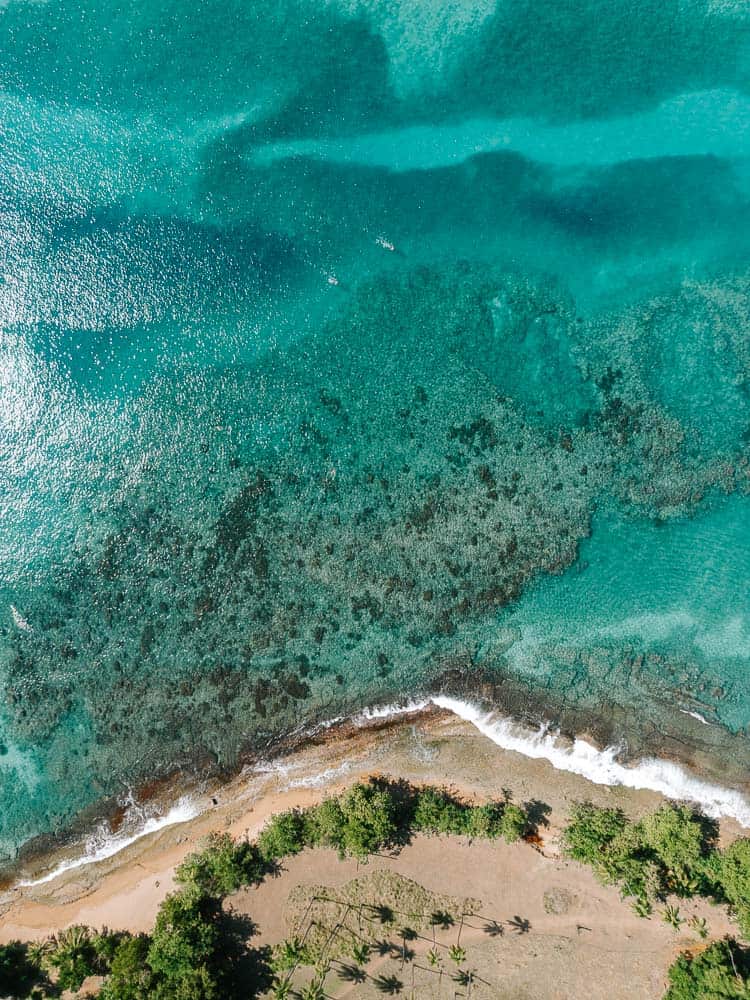 Lala's Beach
Lala's beach is one of the bigger beaches in Rincón. The beach has lots of sandy area to set up for a great beach day.
Lala's beach has no coral, a sandy bottom and super calm water most of the time. It's a great beach for families and there is food and refreshments close by on the other side of the parking lot.
Click here for location.
More Beaches:
Planning a trip to the East Coast of Puerto Rico? Read my guide about bar hopping in Old San Juan, or take a ferry to Isla Culebra or Isla Vieques!
Leave a Comment OR Question Below!
I'd love to respond to your questions or know if you used this blog post to help plan your trip!
Add to Pinterest!