Exploring Old San Juan: The 17 Best Things to do in Old San Juan
Located on a small narrow island on the north coast of Puerto Rico lies Old San Juan (or Viejo San Juan in Spanish) a vibrant and beautiful city full of history. There are so many things to do in Old San Juan but lucky for you the historic city is only 17 square blocks. You can cover a lot of ground and see a lot of Old San Juan in just a few days!
Old San Juan was founded in 1508 by Juan Ponce de Leon and it is the oldest city in the United States and its territories! As you might imagine there is a lot of history and historic landmarks to uncover in this colonial city. Keep reading for the 17 best things to do in Old San Juan.
17 Best Things to do in Old San Juan
1. Calle Fortaleza and the Governor's Mansion
Head to Calle Fortaleza, the most famous street in all of Old San Juan.
The old cobble stoned street is lined with beautifully painted pastel colored buildings and at the end of the street you will see the Governor's mansion. Calle Fortaleza usually has decorations hanging overhead too making this street one of the most photographed!
The Governor's mansion is a 16th century building that was remodeled in the 1800's and is the residence of the governor of Puerto Rico.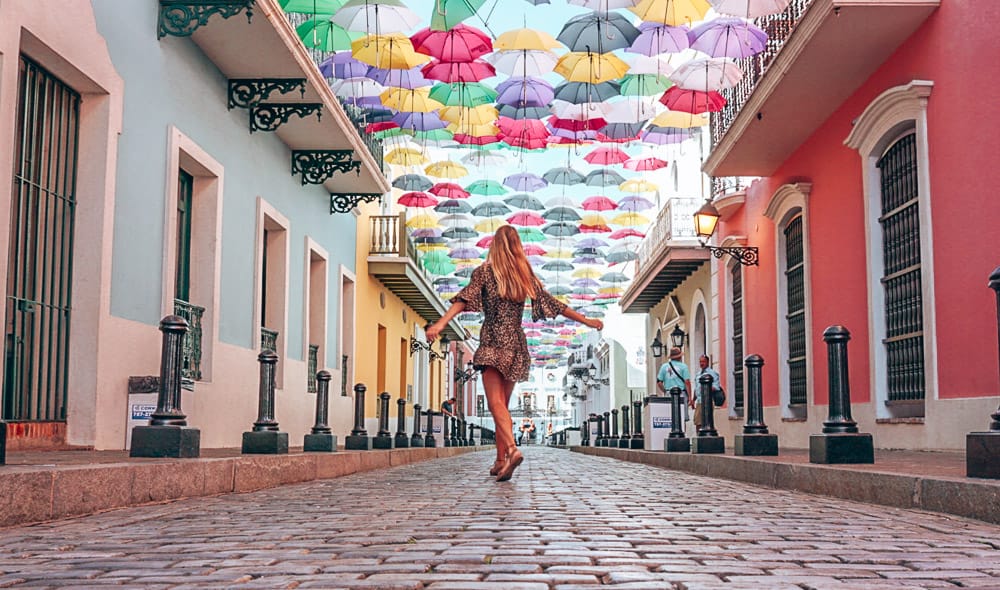 Tip: This is a great spot for a photo op!
2. Castillo San Felipe del Morro
Castillo San Felipe del Morro, the historic fort of San Juan is a must a one of the top things to do in Old San Juan. El Morro (for short) is set on top of a cliff overlooking the Atlantic ocean at the entrance to San Juan Bay and dates back to 1589.
The fort was constructed to keep the Spanish colonial port safe from enemies. Over the centuries the fort was added to and became much bigger than the original plans. Today the site is a National Park, a UNESCO World Heritage Site and preserved as a museum.
Visit El Morro to learn a bit about San Juan and Puerto Rican history. The views alone are worth the visit!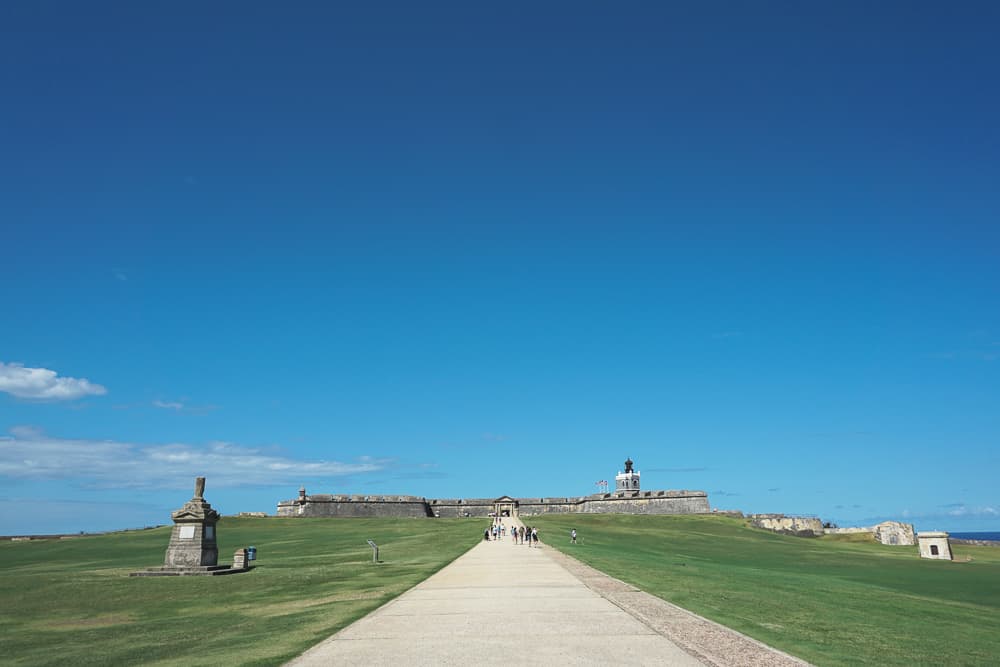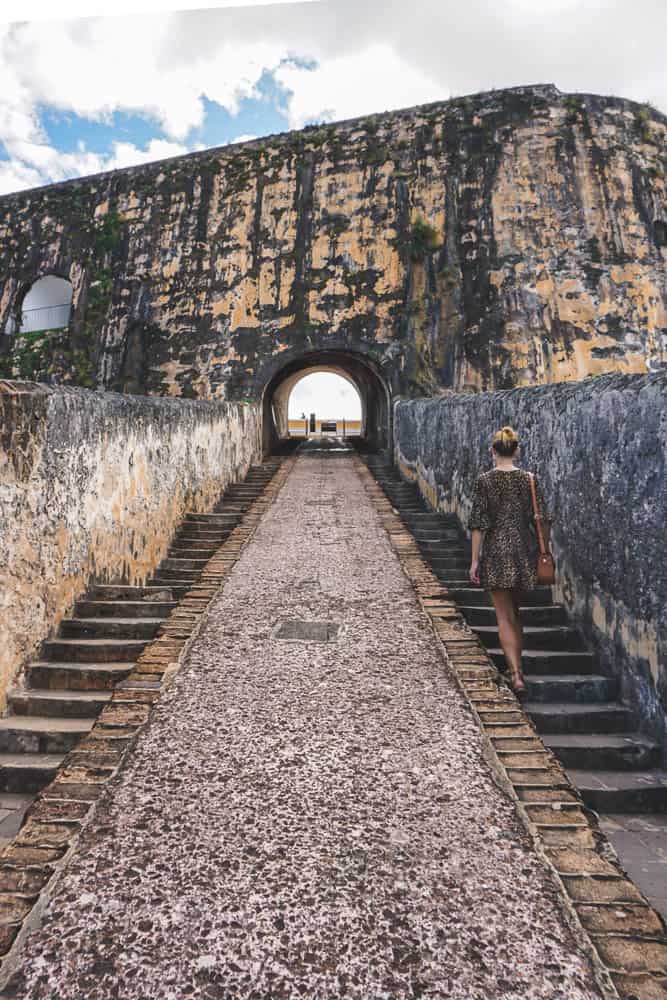 3. Castillo San Cristóbal
While you are visiting El Morro don't forget to also see Castillo San Cristóbal, another fort not far from Castillo San Felipe del Morro. This UNESCO World Heritage Site started construction in 1765 and was built to protect Old San Juan from a land invasion.
Brent and I ran out of time and we weren't able to get here but if you loved El Morro, definitely check out Castillo San Crisóbal as well.
4. Puerta De San Juan
The entrance to the walled city of Old San Juan! Puerta De San Juan was constructed in 1635 and served as the main entry into the walled city during the Spanish colonial era. After you walk through the Puerta De San Juan continue along the Passeo del Morro.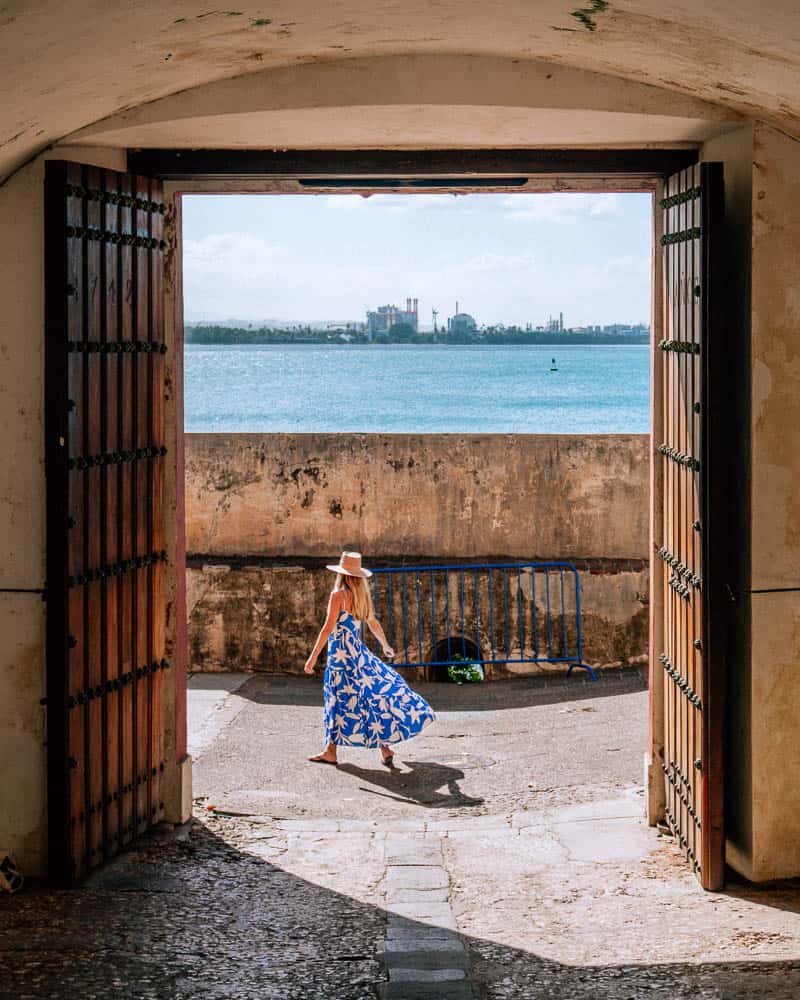 Fun Fact: the gate is 16 feet tall and 20 feet thick!
5. Passeo del Morro
Passeo del Morro is a beautiful walkway around the walled city of Old San Juan. You can start the Passeo del Morro along the Bay of San Juan and continue along where you'll be next to the towering walls of Castillo San Felipe del Morro.
My favorite way to get to the Passeo del Morro is from the San Juan Bautista Cathedral, walk down Caleta de San Juan and then through the Puerta De San Juan. Once you pass through the gate turn right to walk towards Castillo San Felipe del Morro.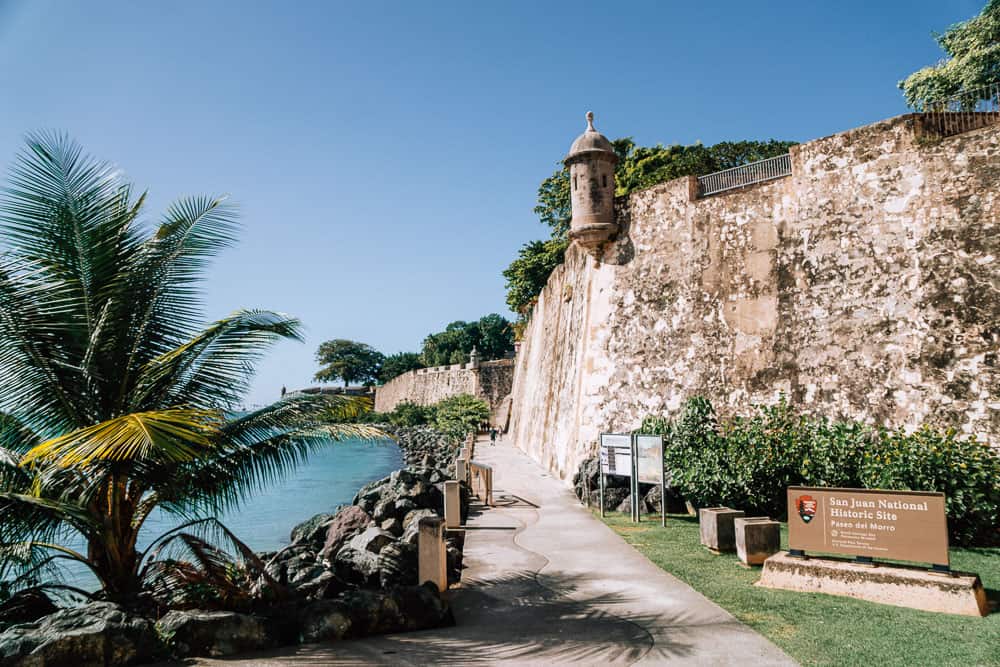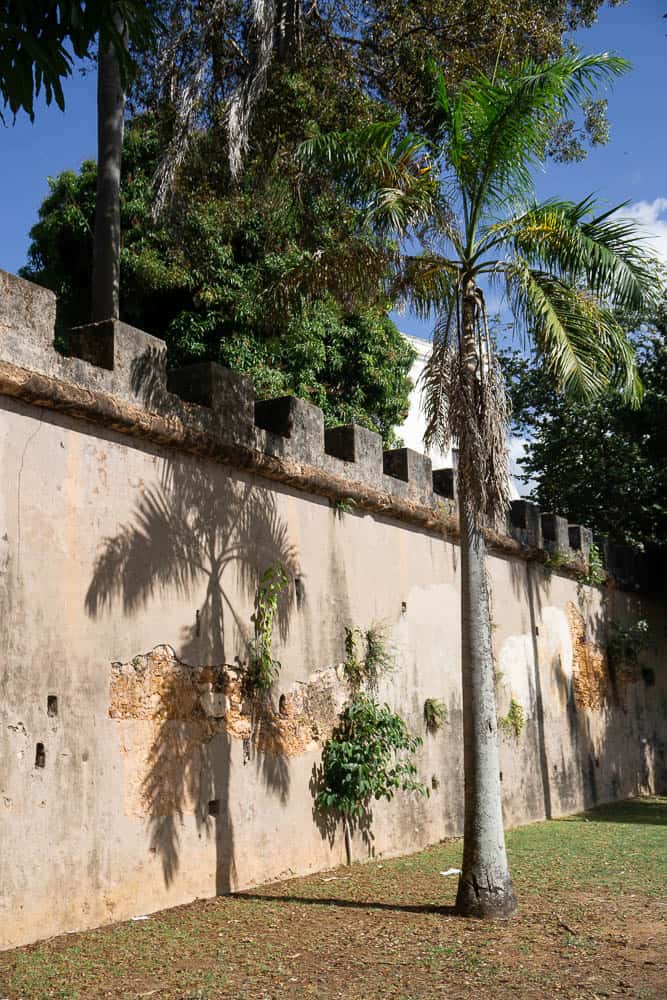 Love cats? If you walk along the Passeo del Morro you won't miss the many cats napping and walking about that call this little piece of Old San Juan home. Consider visiting the Save a Gato center (a non-profit organization dedicated to the welfare and care of the cats of Old San Juan) and donating!
6. Explore the Colorful Streets of Old San Juan
Get your walking shoes on! Old San Juan is best discovered on foot and one of my favorite things to do in Old San Juan. There are so many nooks and crannies to be discovered and so many beautiful bright colored buildings to admire!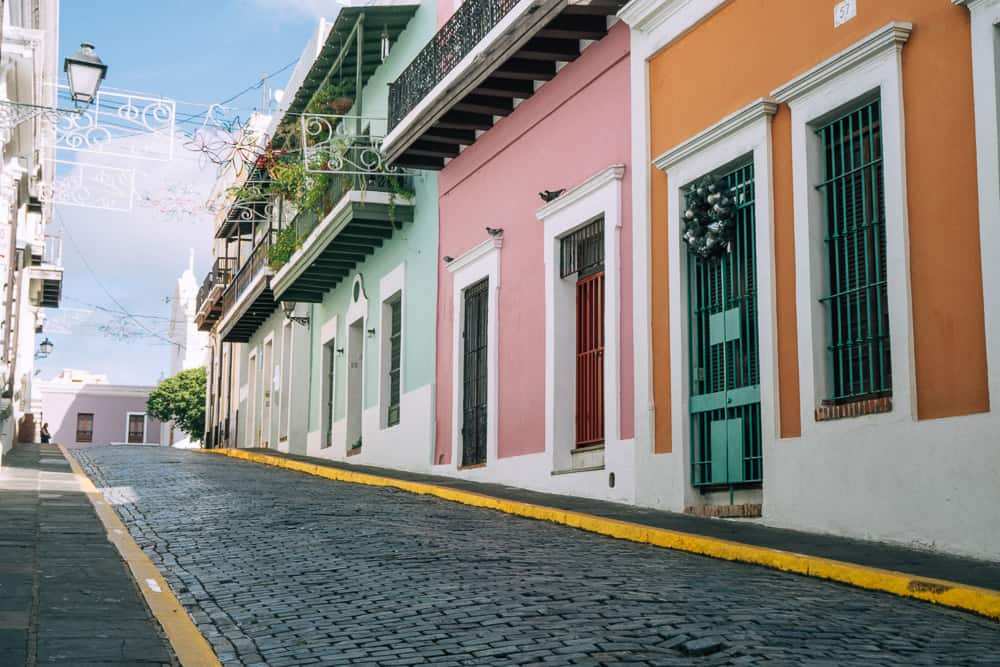 Don't Forget to Look Down! The blue cobblestone streets are very old! The stones were brought over from Spain when the island of Puerto Rico was colonized by Spain and the stones were laid for roads starting in 1784. Over the years the stones have had to be replaced by new ones but you can still spot the original cobblestones on many streets.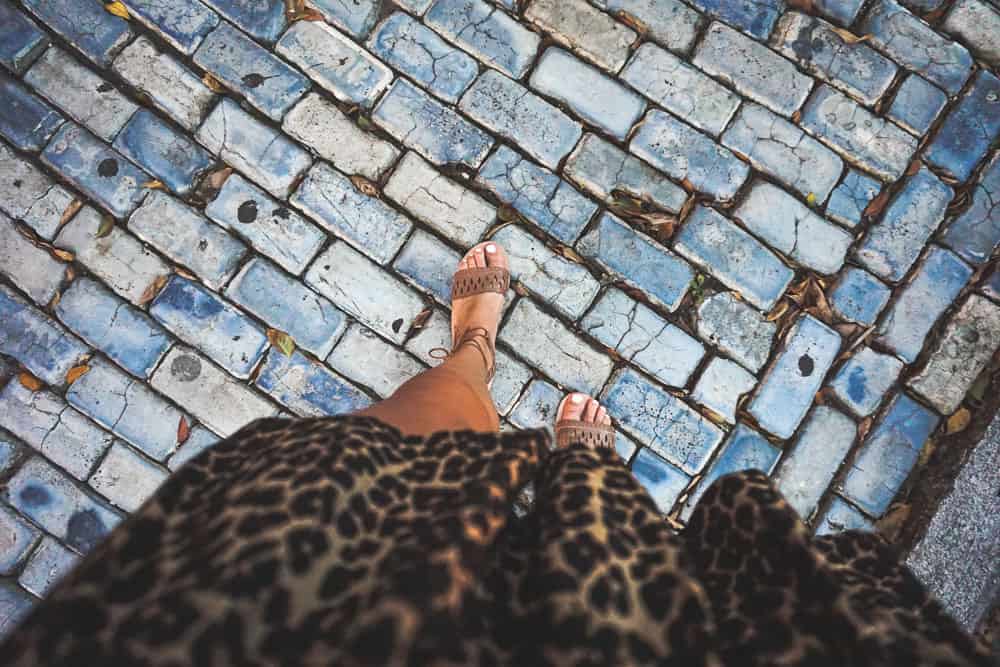 7. Take Photo's at the PR Flag on Calle San Jose
The Puerto Rico Flag painting is a great photo opportunity! The PR flag is painted on an old crumbling building on Calle San Jose. I recommend coming early in the morning to be sure there aren't others waiting to take pictures here too!
8. San Juan Bautista Cathedral
While walking around Old San Juan, don't forget to walk past the San Juan Bautista Cathedral – the oldest church on US soil! This beautiful cathedral is in the center of Old San Juan on Calle de Cristo and is definitely worth walking by or walking into!
The entrance to the Cathedral is free.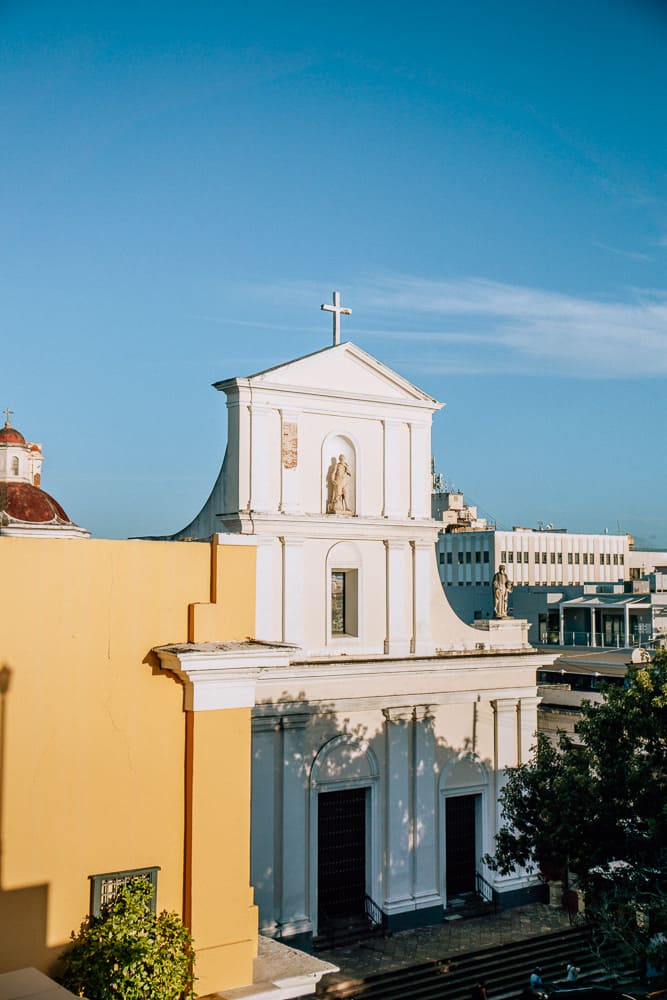 9. Try a Piña Colada from Barrachina
There is an argument about who was the first person to invent the Piña Colada. Caribe Hilton AND Barrachina both claim to be the first one to make Puerto Rico's national cocktail!
Barrachina is a restaurant and bar located on Calle Fortaleza in Old San Juan. Stop by and try one (or two) piña coladas for yourself! (and then go to the Caribe Hilton and try one there and let me know which you think is better!)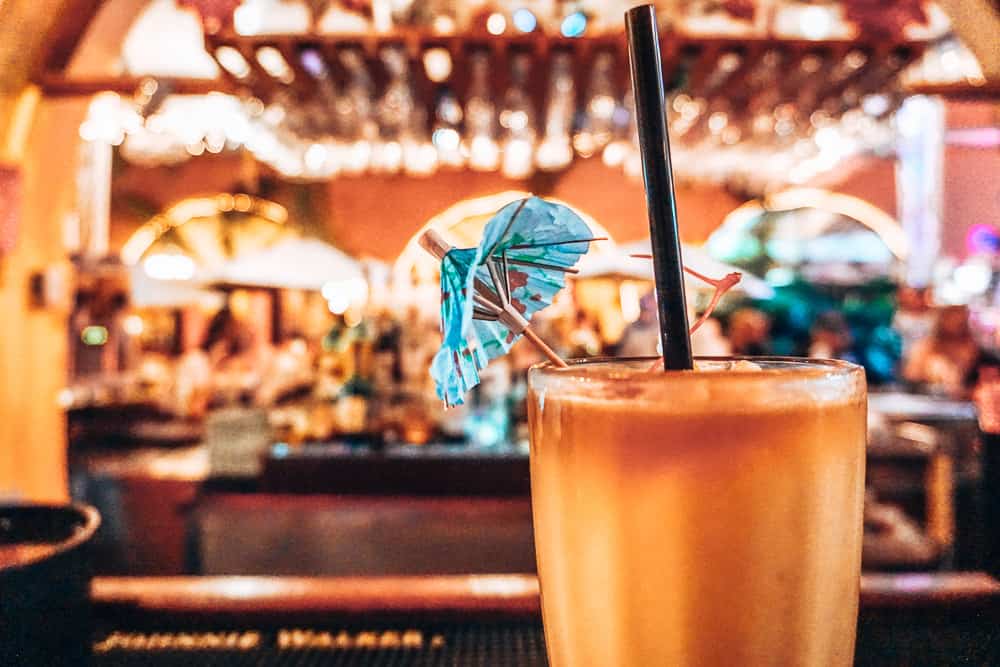 10. Bar Hop around Calle San Sebastian
If you like to drink… bar hopping can't be skipped over. This is one of the funnest things to do in Old San Juan.
Bar hop around Calle San Sebastian as the sun sets and turns the tropical sky from pretty vibrant hues to dark blue. There are so many fun bars along Calle San Sebastian and the surrounding streets like the famous La Factoria. Read my guide to the Best Bars to visit in Old San Juan here.
Must Read: Best Bars in Old San Juan
11. Take a Walking Tour or Food Tour of Old San Juan
What better way to experience the city and its history than a guided walking tour!
This Old San Juan Walking Tour will take you on a two hour tour of Old San Juan to discover the area's key historic sites and gain new insight into Puerto Rican culture and history. Book Here!
Or maybe you want to experience The Flavors of San Juan Food Tour. This three hour, small group food tour will give you a taste for the flavor and culture of Puerto Rico. This tour not only features several local eateries but you will also be immersed in the history of Old San Juan as you walk the streets with your guide! Book Here!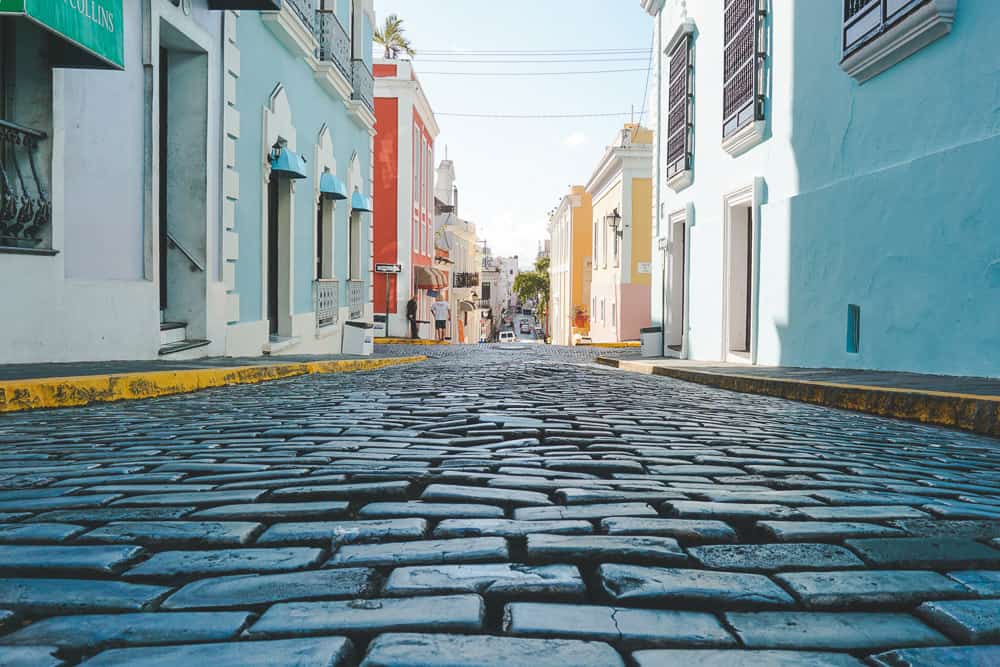 12. Try a Mallorca
You must try a mallorca while visiting San Juan! A mallorca is a traditional sweet bread with powdered sugar sprinkled on top.
You can eat it alone, with butter and jam or I had a ham, egg and cheese on a mallorca at the counter of a traditional Old San Juan diner called Cafeteria Mallorca. You can sit down and enjoy a meal or you can buy pastries out of the front window.
13. Try Mofongo at La Jibarita!
La Jibarita is a traditional Puerto Rican restaurant serving up classic Puerto Rican dishes one of which includes mofongo. Mofongo is deep fried and then mashed green plantains and traditionally served with shrimp or chicken.
If mofongo doesn't interest you – still make sure to go to La Jibarita for lunch or dinner!
14. Plaza de Armas
Plaza de Armas was designed as the original town square back in the Colonial Era of Old San Juan. In the plaza is the town hall, Puerto Rico Department of State and a lovely fountain in the center. Come here to admire the beautiful square and people watch!
15. Visit Museo de las Americas
Visit the Museo de las Americas to learn more about Puerto Rico and the islands long history. The Museo de las Americas is located inside the historic Cuartel de Ballajá and offers four permanent exhibitions: Popular Arts in the Americas , African Heritage , The Indigenous of America , and Conquest and Colonization: Birth and Evolution of the Puerto Rican Nation .
General admission is $6.00 / $4.00 for children under 12
Tip: this is a great rainy day activity
16. Passeo de la Princessa
The Passeo de la Princessa is a promenade dating back to 1853 on the western side of Old San Juan and bordered by San Juan harbor. Along the Passeo de la Princessa you will find sweeping views of San Juan Bay, large 17th century walls, sculptures and vendors!
At the end of the promenade you'll re-enter Old San Juan through the Puerta de San Juan (San Juan Gate) and onto Caleta de San Juan one of the prettiest streets in Old San Juan! Another option is to continue onto the Passeo del Morro towards Castillo San Felipe del Morro.
17. Visit San Juan Beaches
Ok so this is NOT in Old San Juan. But if you are in Old San Juan for a few days maybe one day you want to put your feet up after walking miles and miles around the historic city. The best place to do that is on the beaches of Condado or Isla Verde. These beaches are ten and fifteen minutes away by car respectively.
Day Trips from Old San Juan:
If you have based yourself in Old San Juan, you may want to explore past the city center! Below are some fun day trips I recommend from Old San Juan.
Isla Culebra – located 20 miles off the east coast of Puerto Rico, Isla Culebra is accessible by air or a passenger ferry from Cieba. The star of Culebra is Playa Flamenco which has been rated as one of the top beaches in the world!
Isla Vieques – another island off the east coast of Puerto Rico, Isla Vieques is much bigger than its neighbor Culebra. The highlight of Vieques is the Bioluminescent Bay and the empty beaches in the Vieques National Wildlife Refuge.
Luquillo – just forty five minutes south of Old San Juan by car, Luquillo Beach is Caribbean perfection! Balneario La Monserrate has lots of parking, restrooms, and gazebos for beach day gatherings. Don't miss the Luquillo Kiosks! A row of 60+ food, drink and souvenir kiosks.
El Yunque Rainforest – be adventurous and take a guided tour through the El Yunque Rainforest – the only tropical rainforest part of the US National Forest System!
Cayo Icacos – a small deserted island off the coast of Puerto Rico. Cayo Icacos is the perfect tropical day trip. Enjoy a boat ride, snorkeling, picnic lunch, swimming and gorgeous protected beaches! A day to Icacos is sure to be a fun one!
Heading to the west coast of Puerto Rico? Read my Guides to Rincón!
Fun Things to do in Rincón Puerto Rico
Best Beaches in Rincón Puerto Rico
Day Trips from Rincón Puerto Rico
Rincón Puerto Rico Weekend Itinerary