If you are anything like me, I can eat Mexican food for every meal. So my belly was super happy with a three week trip to Mexico. Since Brent and I hopped around between different hotels and airbnb's, we ate out every single meal except maybe a few cereal breakfasts.
During our three weeks we traveled up and down a good portion of the Oaxaca coast. We spent most of our time in Puerto Escondido – and much of our time in the neighborhood La Punta. Keep reading for my guide to the best restaurants in Puerto Escondido's La Punta Neighborhood.
PS – i'm not a food blogger and totally forgot to take photos of our meals… I will say this though, everything I mention was awesome!
Planning more than one trip to Mexico? Read my guide to Tulum here!
How Much Does it Cost to Eat Out in Mexico?
First things first. So how much does it cost to eat out in Mexico? Well, depends on the region of Mexico you're in but I'll give you a little break down of food and drinks costs on the coast of Oaxaca state. These prices are in line with the best restaurants in Puerto Escondido I list below!
| | | |
| --- | --- | --- |
| ITEM | MEX | USD |
| 6 Pack of Beer from tienda | 100 | 5 |
| 1 liter bottle of water from Oxxo | 15 | .75 |
| Margarita | 80 | 4 |
| Taco | 40 | 2 |
| Ceviche Mixto (for two) | 200 | 10 |
| Guacamole | 80 | 4 |
| Casual lunch | 130 | 6.50 |
| Casual dinner | 130 | 6.50 |
| Mid Range dinner | 200 | 10 |
*Exchange Rate at time of post was $1 USD for ~$20 MEX
Where is La Punta?
La Punta or "the point" is at the most southern point of Puerto Escondido. This was my first time traveling to this part of Mexico but I hear that this area has been very built up in the last ten years. The crowd is very international! During our trip tourists consisted mainly of Mexicans, Europeans, Peruvians and Argentinians.
Most things in La Punta are situated on one main road: Alejandro Cárdenas Peralta. You can find tienda's, hostels, hotels, airbnbs, cafes, larger restaurants, surf shops, boutiques and more all right in this main part of the road on the beach.
Your Guide to the Best Restaurants in Puerto Escondido's La Punta Neighborhood
An outdoor grill in an empty lot on the main road. The courtyard has large communal tables with tea lights throughout the trees overhead. Ala burger serves up.. well burgers & pizza! Couldn't not include this on the list for best restaurants in Puerto Escondido.
Bar La Punta
Bar La Punta is right on the beach. In fact you can rent lounge chairs here for the day as well. We did more drinking than eating here but the ceviche was really good but very spicy! What seems like the whole town comes down to the beach to watch the sunset each evening.
Our favorite margarita in the area and of the entire trip! Bikini Bar is a little corner bar with swinging bar chairs and high top tables in a little alley that heads down to the beach. They didn't serve any food but like I said they had the best cocktails and you can get awesome guacamole just next door at Pinches Tacos.
We just had breakfast here but you can also enjoy lunch here too. They had great juices and breakfast food. Waffles, pancakes, crepes, eggs and loads more.
Casa de burrito
We kind of ended up here by mistake. If you don't get to the restaurants by 730 you will have to wait an hour to be seated. We were just too hugnry to wait an hour so we stumbled upon this little shack making HUGE burritos. Casa de burrito was super casual and super good. (PS: you can definitely share one burrito – they are so big)
I think this was my favorite meal in the three weeks we were here! This might top the list of best restaurants in Puerto Escondido. It was also one of the more expensive places to get dinner. We spent $35 dollars for two cocktails and two main dishes… so still a steal if you're from NY like we are but more expensive than other places. Chicama is a Peruvian restaurant – you have to try their pisco sours and the black fish on the menu is a MUST.
Ok so this was hands down our favorite lunch spot – we ate here several times because it was just that good. A little hole in the wall down an alley that leads to the beach, Fish Shack served up the best tacos and a bomb fish sandwich. Go here early in your trip because you'll want to go back again. Definitely one of the best restaurants in Puerto Escondido.
Farther up near the main highway – El Arbol features a bunch of different vendors and cuisines. Thai, Mediterranean, Argentinian and more! This is a great spot to listen to music and chill.
If you're looking to change it up from Mexican cuisine head to Lychee a Thai restaurant! Lychee has a really cool vibe inside and if you can get a bar seat you can watch them cook in the center of the bar. The sashimi was amazing here as was the Pad Thai.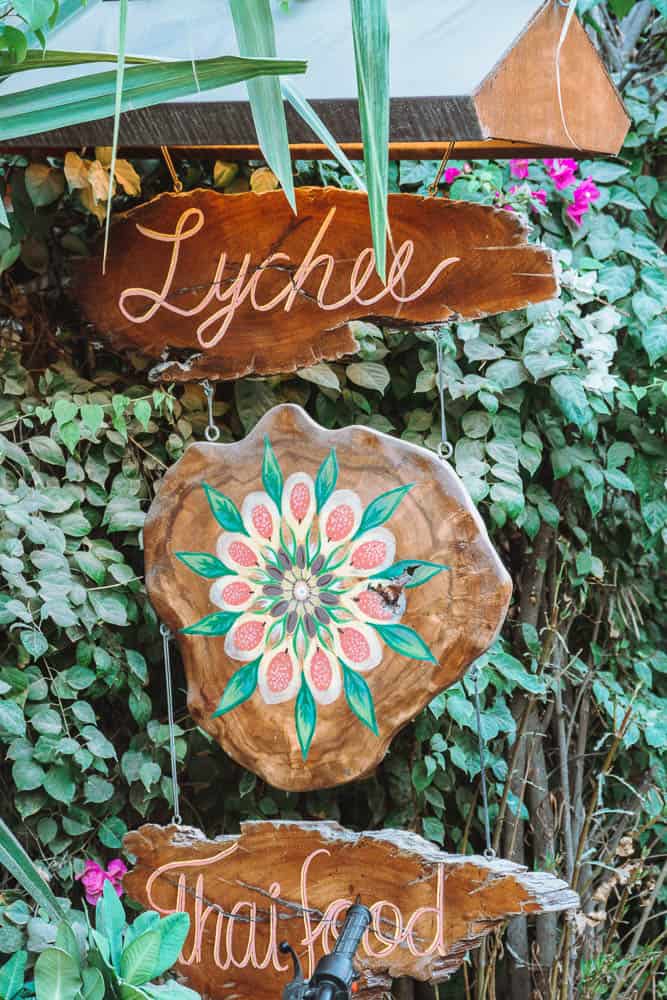 This pizza place was really cool! Mundaka has a great vibe, good cocktails and yummy pizza. (I will admit the second time we came we had slightly less drinks before hand and it wasn't *as* good) A great option for when you've had too much Mexican food.
Pezagave is an adorable restaurant and had great live music while we were there. Definitely order the shrimp tostadas! But the margaritas were meh – too much sour mix and a disappointment.
We loved Piyoli for its mellow atmosphere, live music and great healthy food! Falafel, fish, chicken. They also serve lunch and breakfast but we didn't get around to trying them.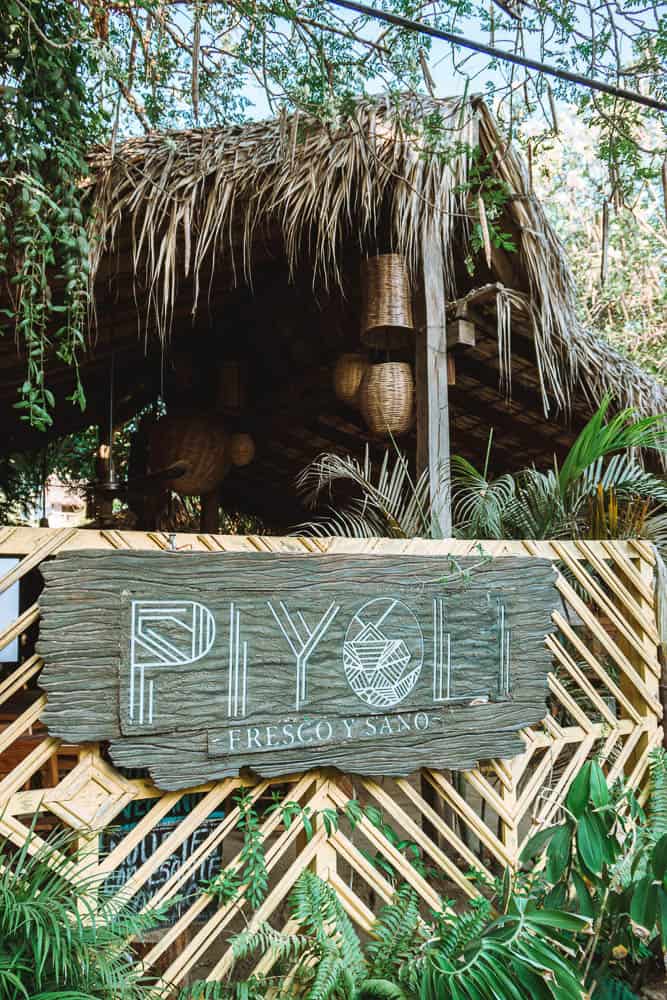 Savahah is right at the end of the road and on the second floor over looking the beach and road. It was a great spot for breakfast. The orange juice and avocado toast were great after a morning surf!
We sadly didn't get to try out Pepe's Fish Tacos which we had heard was really good and an experience! I think if we had it would have made this list of best restaurants in Puerto Escondido so if you're in La Punta make sure to try it and let me know what you think!
If you are staying in Zicatela I definitely recommend trying Spirulina which has a bunch of great healthy options as well as El Cafecito, which we ate at many, many times!
Add to Pinterest!